Who was Chalino Sanchez?
Chalino Sanchez's music quickly became the anthem of Sinaloan drug culture
---
By Police1 Staff
Subcultures often identify themselves through a particular style of music. Song lyrics are also a way for law enforcement to keep up with current information on dangerous fads in culture. That's what makes the story of Rosalino "Chalino" Sanchez important to learn from.
Chalino is one of the first and most famous musicians to sing narcocorridos, a style of music strongly tied to Mexican drug and gang culture, and inherently law enforcement.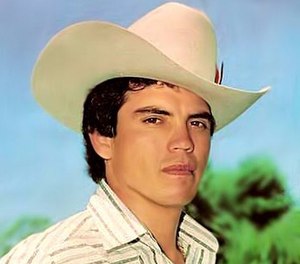 The man behind the music
Chalino Sanchez was born in the Sinaloa state in Mexico in 1962. His family was impoverished and lived in an isolated village. At the age of 15, Chalino shot and killed one of the several men who had raped his sister four years earlier. After the incident, he left for the United States to stay with an aunt in Los Angeles. Once in California, he worked numerous jobs, including a stint as a "coyote" (someone who smuggles illegal aliens into the US).
In the early 1980s, Chalino was sentenced to serve eight months in La Mesa jail for a variety of petty crimes.
During his time in jail, Chalino practiced music and exchanged stories with other Sinaloans. This experience inspired Chalino to describe these stories through a type of Sinaloan song called a corrido. Historically, this music was composed to tell the stories of heroes from the Mexican Revolution or infamous bandits. 
The rise of Chalino's music
Once released, Chalino quickly established a reputation for writing corridos on commission and his music career took off. There was a massive demand for his music. He wrote stories that resonated with his own background and experiences in Sinaloa. 
While he rarely mentioned the drug trade directly in his music, listeners still knew the connection and the meaning of the music. Chalino told the stories of men who overcame impossible poverty to survive and develop power, as valientes, and about the reality of dying from the violence in a corrupt system.
Because of the content and the stories told in the music, this style of song became known as a narcocorrido. While it told a story in the manner of a traditional corrido, these were so tied to the lifestyle of the drug culture, that they took on the term 'narco' from narcotics. 
The gang culture
The narcocorridos, also called corridos prohibidos, resonated with Sinaloans that moved to L.A. As narcocorridos became more popular in Southern California, it became adopted by other artists but remained largely eschewed by major labels. The root of this was that mainstream culture did not understand the conditions that led to the narco-culture that was predominantly Sinaloan.
Being very poor in Mexico meant drug smuggling was one of the only ways to find financial security. As organized crime and its influence grew, drug smugglers began to be regarded as heroes at times.  
Similar to the way in which "gangster rap" became part of the lifestyle for gang members in urban cities, narcocorridos became very popular with Sinaloan Cowboys. The musical tales of narco heroes glorifies the violence in the drug trade and made this style of music the rallying cry for organized drug-smuggling gangs. 
The impact of Narcocorridos 
For this reason, narcocorridos remain largely prohibited, and musicians who pursue this type of lifestyle are often in danger. Chalino himself was killed in 1992, after being pulled over at a traffic circle by a group of armed men who flashed state police identification cards. Chalino was then blindfolded, tied up and shot in the head twice. No motive was established and no suspects were arrested, though there is little doubt the murder was fueled by the drug trade. 
Since Chalino's death, there have been at least a dozen big-name narcocorrido performers that have been murdered, including Valentin Elizalde in 2006 and Sergio Gomez in 2007. In 2013, there were 17 less-famous narcocorrido musicians murdered.  For them, the music, drugs, and the culture are all entwined, in life and commonly, in death.  
Yet, despite the peril many of these musicians' face, many are still performing, simply to give voice to a culture and a way of life that the vast majority of people cannot relate to. Chalino Sanchez paved the way for an entire genre of music to fill a void and even today it remains an integral part of Mexican drug cartels and their various gangs.
References
1. Quinones S. True Tales from Another Mexico: They Lynch Mob, The Popsicle Kings, Chalino, and the Bronx. Albuquerque, NM: University of New Mexico Press, 2001.
2. Mertova V. (n.d.). The "narco-culture" in Mexico: Narcocorridos and Chalino Sanchez. The Post, Karlova University.
3. Cobo L. It's like a horror movie: The grisly details behind Mexico's narcocorrido murder epidemic. Billboard, April 10, 2015.