AG Barr: Cops deserve gratitude, not disrespect and resistance
"It has become common to disparage the vital role you play in society. We have to get back to the idea that it is completely unacceptable"
---
Charles Rabin
Miami Herald
MIAMI — It used to be a sleepy affair in which dozens of police chiefs from across the country would gather to talk shop, discuss new law enforcement techniques and, once in a while, recruit.
But in recent years, meetings of the International Association of Chiefs of Police have taken on a more serious tone in the wake of mounting criticism over mistreatment of minorities and outright attacks on officers, like the Dallas police massacre in 2016.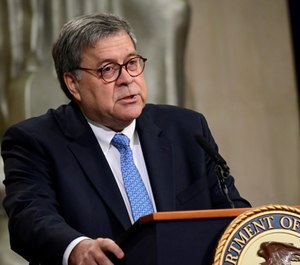 And none have been as somber as the three-day symposium with the theme "police wellness" taking place this week in downtown Miami. That's because a growing number of cops aren't doing well. Last year alone, 228 police officers across the country committed suicide, a trend that has been ticking upward for years and a staggering 44 percent increase from 2018.
Attorney General William Barr, the event's keynote speaker, pointed to public questions and criticisms of law enforcement as a contributing factor to the stress on street cops.
"Policing is dangerous. The reality is that being a police officer is more dangerous today than it has ever been before," said Barr. "One reason is the emergence of a deeply troubling attitude towards police in some parts of society. Far from respecting the men and women who put their lives on the line to protect us, it has become common in some quarters to scapegoat and disrespect police officers and disparage the vital role you play in society. This undoubtedly makes your already difficult job of protecting the public even harder."
Barr said he was distressed by the attitude "that it's OK to resist police officers" and that it now happens "on a casual basis." He told listeners that the reason such laws exist against resisting police is because police officers are put into dangerous situations which can escalate quickly.
"There are a number of DAs that have stopped enforcing resistance laws and I think we have to get back to the idea that it is completely unacceptable and we have zero tolerance for resistance of police," he said. "If people have a problem we have processes and there's a time and place to raise your concerns or complaint, but resistance is unacceptable."
Whether the suicide numbers in 2019 represent a blip or an ongoing problem, they have become a major focus for police departments across the country. Many, like Miami-Dade police, have begun studies to determine just how common post traumatic stress disorder is among police officers and have created psychological services and peer groups to help officers deal with their mental health issues.
Late last year, the federal government also took notice. President Donald Trump signed an executive order creating the President's Commission on Law Enforcement, the first group of its kind since the Lyndon Baines Johnson White House created the same working group 50 years ago and enacted law and policy changes that still resonate in policing today.
The commission is in Miami this week to listen to experts and witnesses discuss the suicide problem, offer opinions on why the numbers are skyrocketing and to share some of the promising techniques that are lessening the strain and helping police officers cope with the brutality and death they deal with on a daily basis.
Down the road the group will offer suggestions and recommendations to Barr on how to improve policing and deal with mental health problems affecting officers.
On Thursday morning, the presidential commission, comprised of law enforcement professionals with hundreds of years of experience all over the nation and in almost every branch of law enforcement, met for the first time during an IACP meeting at the Hyatt Regency Hotel in downtown Miami.
Included in the group was Florida Attorney General Ashley Moody and Pinellas County Sheriff Bob Gaultieri, who spent two years as chair of the Parkland Safety Commission, created in the wake of deadliest high school shooting in Florida history. One panel also included Miami Police Chief Jorge Colina. Like every department across the country, Colina said several of his 1,300 sworn officers suffered from PTSD.
"We have taken great care of our residents,'' he said. "However, we have forgotten to take care of ourselves," he said.
Still, Miami and Miami-Dade police seem to be ahead of the curve when it comes to offering officers help with mental health issues. Miami-Dade police, one of the largest agencies in the Southeast hasn't had a suicide in almost five years. The county has provided officers with a psychological services unit since 2014 and has offered classes to help officers in need since 2003.
Barr, introduced before a standing-room-only crowd in a hotel ballroom, spoke for about 20 minutes on topics ranging from the lack of respect officers receive to officer safety to suicide. He told how assaults on police nationwide have jumped 20 percent in recent years to about 60,000 a year and said that 134 officers were killed in the line of duty in 2019, including eight in Florida. Then he read each of their names and asked for a moment of silence.
Barr said police should be shown the same gratitude as soldiers returning from war.
"Foreign wars usually come to an end, but the battle that law enforcement fights never comes to an end. There is never a final victory, it is constant," he said. "That takes a special kind of courage and a special kind of sacrifice."
After the attorney general's remarks, the president's commission held its first meeting in an adjacent ballroom. There, Dallas surgeon and chief medical officer Alexander Eastman told of the day on July 7, 2016, when a sniper from a perch in a building assassinated five police officers and injured nine others in downtown Dallas. When Eastman got home, he said, he walked over to his son's crib.
"Right then," said Eastman, "I made a commitment to myself and everyone who would listen that 'it's okay not to feel okay.'"
McClatchy-Tribune News Service