Ghost guns manufactured by 18-year-old, 2 juveniles found in Harlem day care, NYPD says
The guns allegedly manufactured by the suspects were made from a combination of parts found online and parts made by a 3D printer, according to NYPD
---
By Kerry Burke and Michael Gartland
New York Daily News
NEW YORK — Cops seized three 3D-printed guns and a 3D printer from an East Harlem day care as part of a sting operation that nabbed three people suspected of manufacturing ghost guns, NYPD officials announced Wednesday.
The arrests came after the execution on Tuesday of three search warrants targeting the suspects, two of whom are minors.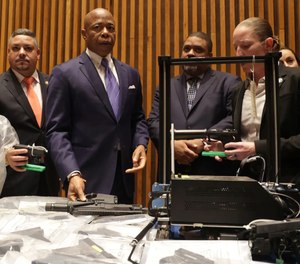 The arrests and gun seizures come just days after a Bronx toddler died due to a suspected overdose from fentanyl at a Bronx daycare that police and prosecutors say doubled as a stash house for large quantities of the dangerous drug.
"This is a heartbreaking scenario, thinking that you're dropping your child off to a place of safe haven just to find out that it was a dangerous environment," Mayor Eric Adams said of the ghost guns bust.
NYPD Deputy Commissioner of Intelligence and Counterterrorism Rebecca Weiner said the investigation resulting in the three arrests is "ongoing." That probe is being spearheaded by the NYPD and investigators from Manhattan District Attorney Alvin Bragg's office.
The guns allegedly manufactured by the suspects were made from a combination of parts procured online and through the use of parts produced by a 3D printer, according to police officials.
NYPD sources identified the 18-year-old arrested in the apartment on East 117th Street near Park Avenue as Karon Coley. He's being charged with weapons possession, manufacture of a machine gun and acting in a manner injurious to a child, among other charges.
The probe began, according to Weiner, when investigators discovered a group of people that included minors buying ghost gun parts and 3D printing materials from online retailers. Those purchases were made through "fraudulent means" including identity theft, which led investigators to execute two search warrants, she said.
Those searches pointed investigators to Coley and led to the execution of a third search warrant at Coley's family's apartment, where cops found evidence showing he was involved in using 3D printers to create illegal guns, Weiner added.
"It's important for us to underline that this private residence located in the 25th Precinct is also a licensed day care operated by the subject's mother," she said.
Inside, cops seized a printer, two completed firearms and one partially-completed automatic assault pistol "in the final stages of assembly," Weiner added.
Two sources who live in the same building as the day care confirmed to the New York Daily News on Wednesday that the woman who runs it out of her two-bedroom apartment is April Coley. One of those neighbors, who asked to remain anonymous, said April Coley was questioned by the NYPD and that her son Karon "Jamal" Coley and a younger male were also arrested Tuesday.
Contacted by phone, April Coley told the Daily News that she hadn't been charged and declined further comment.
According to Weiner, cops also found "an obviously maltreated and neglected dog," which the NYPD's animal cruelty unit removed for evaluation.
The day care that shares an address with Coley's residence is Alay's Daycare. Calls and emails to Alay's were not immediately returned.
Hours after the arrests were announced at NYPD headquarters, reporters and camera crews flooded the apartment building where Alay's operates. Investigators from the Administration for Children's Services also showed up trying to track down the day care's proprietors.
One tenant, who lives down the hall and also asked to remain anonymous to avoid trouble with his neighbors, said that a woman and her son ran the day care, where parents typically picked their kids up in the afternoon — just hours before the search warrant was executed around 7 p.m. on Tuesday.
"I can't believe it. I just can't believe it," the man said. "That's crazy."
Ghost gun seizures in the city have been trending upward over the last three years and have increasingly become a priority for the NYPD and prosecutors. In June 2022, Adams and New York State Attorney General Letitia James announced that they filed two lawsuits against gun distributors selling gun parts in an effort to skirt the law.
Weiner noted Wednesday that in 2021, the NYPD seized 263 so-called privately manufactured firearms, and that the number recovered in 2022 nearly doubled, climbing to 436. So far this year, the NYPD has seized 290 of the guns — three times as many as were recovered by the same time last year, she said.
"Since 2020, our office has brought prosecutions, based on this collaboration, that involve seizures of 93 ghost gun parts, 66 ghost guns and firearms, 428 high-capacity magazines and 47 silencers," Bragg said. "Those are prosecutions that made New York and Manhattan safer."
_____
©2023 New York Daily News.
Visit at nydailynews.com.
Distributed by Tribune Content Agency, LLC.
McClatchy-Tribune News Service