Records: DNA from tissue led to Golden State Killer arrest
The newly-released records also offer a window into the crimes that terrorized California
---
By Kathleen Ronayne
Associated Press
SACRAMENTO, Calif. — DNA from a tissue left in a trash can led authorities in April to arrest a former police officer suspected of being California's notorious, elusive Golden State Killer, according to warrants released Friday.
Documents released by a judge at the request of news outlets detail the case Sacramento County sheriff's investigators pieced together to obtain arrest and search warrants for 72-year-old Joseph DeAngelo, who is facing murder charges in multiple counties.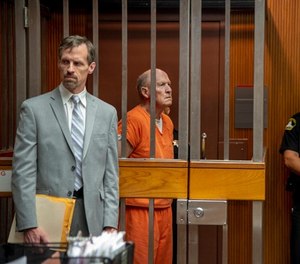 DeAngelo is suspected of committing at least a dozen killings and roughly 50 rapes in the 1970s and '80s.
The documents also offer a window into the crimes that terrorized California.
After investigating for more than 40 years, police zeroed in on DeAngelo by using genealogical websites to identify potential relatives of the killer based on DNA collected at a crime scene.
Investigators used DNA from a semen sample collected at the double murder of Lyman and Charlene Smith in 1980 in Ventura County to find one of DeAngelo's relatives and eventually the suspect himself, according to the warrants.
After identifying DeAngelo as a suspect, investigators followed him to a store outside Sacramento and took a swab from the door handle of a car he exited. That sample didn't immediately lead to an arrest.
The use of so-called "touch DNA" — collected when only a few human cells are left behind when someone touches an object — has raised controversy among forensic experts.
Three days later, investigators collected trash from cans left outside DeAngelo's home in Citrus Heights, California.
A piece of tissue plucked from the trash proved to be the piece of evidence they needed to obtain an arrest warrant, according to the documents.
DeAngelo was arrested several days later and has since been charged with 12 counts of murder in Sacramento, Ventura, Santa Barbara and Orange counties. Prosecutors haven't yet decided where he'll be tried.
Investigators have searched DeAngelo's house, vehicles and storage locker, as well as his computer and cellphone. It's not clear what was recovered from DeAngelo because a judge ruled that those records should remain sealed.
Authorities said the Golden State Killer stole dozens of rings, watches, cufflinks and tie pins over the years that detectives hoped to find, along with an odd assortment of items including women's purses, cameras, jewelry made from coins, china, a clock radio and a wooden bowl. He also took drivers' licenses, photographs and other identification from his victims, according to the documents.
Detectives also hoped the killer might have kept three blunt objects containing blood, tissue and hair from four victims who were beaten to death. One of the weapons is described as "possibly a metal sprinkler head."
The heavily redacted affidavits show a chilling pattern of behavior. Neighbors reported numerous silent or lewd phone calls before the double murder of Brian and Katie Maggiore in Sacramento in 1978.
A 25-year-old woman in the neighborhood reported finding shoeprints outside her bedroom window and drawings in what appeared to be bodily fluids, according to the affidavit.
The Maggiores were shot while on a walk one evening. The attacker then fled, running through multiple neighbors' yards. To one, he said, "excuse me, I'm trespassing," the documents state.
The killer was prone to "explosive violence" when cornered and, once confronted by police or neighbors, he tended to never again attack within that same jurisdiction, the documents said.
Descriptions provided by those neighbors helped investigators draw their first composite sketch of the killer.