Texas police probe grim cartel-style graffiti threats
One message read "silver or lead" in Spanish, a threat heard in Mexico signifying pay up or get shot
---
Associated Press
EL PASO, Texas — El Paso police were investigating two mysterious messages painted onto billboards in the border city that included mannequins dressed in suits hanging from nooses.
The El Paso Times reported that motorists alerted police to the graffiti early Thursday morning. Both billboard companies said the painted messages were vandalism and not paid advertisements. They have been removed.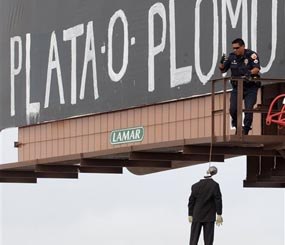 One message read "silver or lead" in Spanish, a threat heard in Mexico signifying pay up or get shot.
"This (message) has historically been used by Mexican drug cartels to threaten or intimidate Mexican citizens, business owners and government officials. However, we have never experienced this in El Paso," Sgt. Chris Mears, a spokesman for the El Paso Police Department, said in a statement. "The investigation is ongoing, but we do not have any information to suggest this was done to target any individual person or business at this time."
The message on the other billboard read, "dying for drugs."
Drug cartels sometimes hang banners in Mexican cities with graphic threats and have even hanged victims from overpasses, but such public threats are virtually unheard of on the U.S. side. El Paso has maintained a crime rate that is among the lowest in the country, even during recent years when Ciudad Juarez, across the border, suffered a bloody cartel battle.
"Whoever did this went through a lot of work to get this accomplished," said Phil Jordan, a former Drug Enforcement Administration agent who ran the El Paso Intelligence Center. "This is possibly a message to someone who hasn't cooperated with the cartels. But even if it's a hoax, something like this is going to make the El Paso population uneasy, given that the city is not far from the killing fields of Mexico."
Copyright 2014 The Associated Press