Officer, wife find solace in creating personalized urns for K-9s
The K-9 handler and his wife help others through their grief with a special memorial
---
By Elyse Lopez
Police1 Contributor
CHEVIOT, Ohio — Katie and Jeff Patton spend their free time helping others through their grief in a unique way.
The couple has created a business hand-crafting personalized urns, or memory boxes, for K-9s who are killed in the line of duty.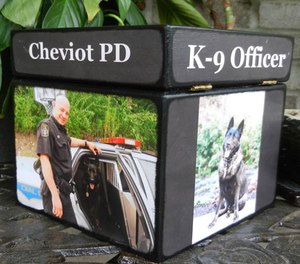 "I know everyone loves their pet, but the love between the officer and their K-9 is really special," Katie said. "Losing a K-9 is like losing a child."
The couple started their business after they lost their dog. For the Patton family, the dog was a piece of their heart.
"Law enforcement is my heart, because that's my life," Katie said. "As wife of a K-9 officer, our dog lives with us, so that's my heart and life too."
The couple couldn't find an urn that properly memorialized their fallen pup, so they built their own. Since 2012, the couple has designed and built urns for others going through the same heartache.
Jeff, a 23-year-veteran of the force, and Katie create the memory boxes themselves. Katie designs the keepsake based off the client's specifications and pictures of their fallen K-9 while Jeff does the woodwork. They average about five urns a week. 
Working together really helps strengthen their bond, and gives Jeff some down time from his daily life on patrol.
"It's actually wonderful because he works so much," Katie said. "Jeff and I truly put our hearts in there. If it's not 100 percent thorough, we start over."
The process helps the couple with their own grief and also allows them to console others going through the same loss.
"I end up being their counselor during the process and I stay in contact with them after," Katie said. "It's a healing process and a true keepsake made to last."
For more information, visit their website at blocksfromtheheart.com.