DOJ: Family of D.C. officer who died by suicide after Jan. 6 attack can receive benefits
Officer Jeffrey Smith's death resulted in a new law that extended eligibility for federal benefits to the families of officers who died by suicide
---
Suicide is always preventable. If you are having thoughts of suicide or feeling suicidal, please call the National Suicide Prevention Hotline immediately at 800-273-8255. Counselors are also available to chat at www.suicidepreventionlifeline.org. Remember: You deserve to be supported, and it is never too late to seek help. Speak with someone today.
By Sarah Roebuck
Police1
WASHINGTON — The widow of a police officer who died by suicide following an assault during the Jan. 6, 2021 attack on the U.S. Capitol has been deemed qualified for a federal benefits initiative designed for families of deceased officers, NBC News reports.
Erin Smith, the wife of Jeffrey Smith, played a pivotal role in the approval of an updated iteration of the Public Safety Officer Support Act, which President Joe Biden enacted into law last August.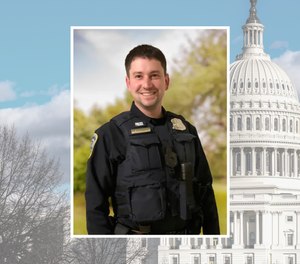 The new law extended eligibility for federal benefits to the families of officers who died by suicide, under the condition that their passing was connected to their official duties and exposure to a traumatic event.
On Friday, Smith's attorney received notification from the Justice Department Public Safety Officers' Benefit Office regarding the decision.
"It is an honor to inform you that the Public Safety Officers' Benefits (PSOB) Office has approved your claim for death benefits," Hope D. Janke, the director of the office, wrote in a letter to Erin Smith. "The entire PSOB Office staff extends our condolences to you and your family, and our gratitude for Officer Smith's public safety efforts and commitment to his community."
Erin Smith asserted that "Jeffrey's injuries clearly caused his death," expressing that she is happy that her efforts will prevent other families of officers who died by suicide from enduring the same ordeal she went through.
"When my husband died, I was denied the line of duty benefits that he deserved," she said in a statement to NBC News. "But I knew from the beginning that Jeffrey died in the line of duty from the injuries he suffered on January 6."
Smith said she was standing at a pharmacy counter when she learned that the benefits she received through her husband's employment had been discontinued. She said she "did not want any future widow, or widower, to ever go through" what she went through after her husband's death.
D.C. Metropolitan Police Officer Jeffrey Smith died by suicide on Jan. 15. He would become one of four police officers to die by suicide after responding to the Capitol siege.
"Based on evidence submitted by the petitioner and the department, we find that Officer Smith sustained a personal injury on January 6, 2021, while performing his duties and that his injury was the sole and direct cause of his death," the D.C. Police and Firefighters' Retirement and Relief Board wrote in a letter obtained by NBC News.
Three more officers who died by suicide in the months after the Jan. 6 attack were D.C. officers Gunther Hashida and Kyle DeFreytag, and U.S. Capitol Police Officer Howard Liebengood.