Police sergeant testifies he was told to tone down 'gayness'
In a lawsuit, Keith Wildhaber alleges he has repeatedly not been promoted because of his sexual orientation
---
Christine Byers
St. Louis Post-Dispatch
CLAYTON, Mo. — St. Louis County police Sgt. Keith Wildhaber said he felt like he had "been punched in the gut" when he was told that he needed to "tone down his gayness" to be promoted to lieutenant.
"I was sickened by it," Wildhaber said Tuesday during the first day of his employment discrimination lawsuit against the department.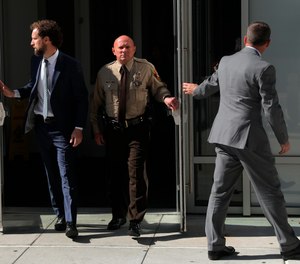 The quote, which Wildhaber said was uttered by former St. Louis County Police Board of Commissioners member John Saracino, came sometime in the spring of 2014, Wildhaber said. That was shortly after Chief Jon Belmar was appointed.
"I think I said, 'I can't believe we are having this conversation in 2014.' It was devastating to hear," Wildhaber said. "We had never spoken of my sexuality before, and I thought he was just trying to be helpful to me and looking out for my best interest in the promotional process."
Wildhaber told the jury that he thought he would have been evaluated for the position based on his body of work, "not the fact that I was gay."
Since then, Wildhaber said, he has been passed over for promotion 23 times.
Saracino has denied making the statement. But it served as the foundation for Wildhaber's attorneys during opening statements Tuesday. They depicted Belmar as having a penchant for promoting masculine men that dominates all promotional decisions and said that he will retaliate against anyone who questions them, as Wildhaber did by filing his lawsuit.
Wildhaber's attorneys, Russ Riggan and Sam Moore, noted that Wildhaber was transferred from the Affton precinct to the Jennings precinct within weeks of filing his lawsuit — almost tripling his commute to work — and taken off the afternoon shift and put on midnights.
"It's what's known as a 'geography lesson' in the department," Wildhaber said.
Belmar sat next to County Counselor Mike Hughes throughout the proceedings. Hughes noted that Wildhaber had once applied for a position that would have based him farther from home than the Jennings precinct and said Belmar had good reason not to promote Wildhaber.
He noted that Wildhaber had been suspended for three days in 2011 for failing to file 23 of about 6,000 police reports during his time as a fraud detective. And Wildhaber was the "subject of an FBI investigation" and didn't notify Belmar about it, Hughes said.
Wildhaber testified that a man who donated to a police charity was the subject of that federal investigation, and FBI agents questioned Wildhaber about conversations he had had with the man. Wildhaber said he thought the man was a charitable businessman and nothing more, but he learned later that he was investigated on suspicion of being a bookie.
Hughes accused Wildhaber of tipping off the suspect that the FBI was investigating him — a claim Wildhaber denied — and said that Saracino and the rest of the police board members would be expected to hold the chief accountable if he promoted someone who tipped off a suspect about an FBI investigation.
"Yes, but I didn't do that," Wildhaber said.
Wildhaber also testified that he notified his immediate supervisor that he had been questioned by FBI agents regarding the investigation.
Hughes noted that Belmar has promoted a lesbian during his administration.
Wildhaber said he'd probably have been promoted if he weren't openly gay.
"The police department under Chief Belmar is big on high-testosterone, type A masculine personalities, and my method of policing doesn't conform with that," Wildhaber said. "This chief is very heavy on promoting the SWAT, masculine type of guys, and I wasn't doing that."
Hughes then asked Wildhaber if he believed Lt. Colby Dolly fit that criteria because he is "thin," to which Wildhaber said Dolly was "an extremely fit and athletic man." Dolly is a member of Belmar's command staff.
Wildhaber's attorneys also said that some whom Belmar has promoted to lieutenant have had bigger disciplinary issues than Wildhaber. One officer was disciplined in 2001 for watching pornography at a school where he worked as a resource officer, they said.
Another sergeant, Andrea Van Mierlo, wrote the words "Reddick. Gay" next to the name of an officer on a list of candidates she was interviewing for a newly formed Special Response Unit in 2017.
Reddick was the last name of that officer's supervisor. Wildhaber asked the officer if he had told Van Mierlo that he was gay, and he said he did not. The officer then notified his own sergeant, who told Wildhaber he would file a complaint.
Van Mierlo got a written reprimand, as did Wildhaber. The department concluded that Wildhaber was guilty of a "breach of confidence" when he notified the officer of the list.
Hughes is expected to finish his cross-examination of Wildhaber on Wednesday
McClatchy-Tribune News Service