The Waze craze: Legal insight into LE concerns surrounding popular Google app
The app's police-tracking feature notifies drivers of any nearby law enforcement vehicles and patrol activity
---
By David Moser, Esq., P1 Contributor
Waze is a navigation app that uses both mapping technology and crowdsourcing to provide drivers with the fastest and easiest routes from point A to B. The app, which hosts 100 million users worldwide, allows drivers to report activity that could influence other drivers' decisions such as current traffic, road hazards and, among the most controversial, police presence.
The police-tracking feature, which was one reason for the spur in Waze's popularity, notifies drivers of any nearby law enforcement vehicles and patrol activity, such as speed traps and sobriety checkpoints, allowing drivers time to find alternative routes and potentially avoid these routine precautions.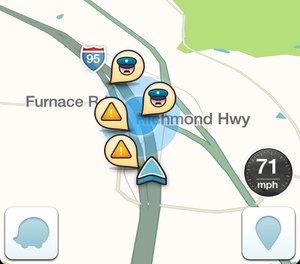 Are there legal issues associated with this feature? Some law enforcement officials think so, claiming the feature could potentially cause harm to both drivers and officers.
The Developing Waze Debate
This February, the NYPD demanded Google immediately remove the police-notification feature from the Waze app, citing that it encourages irresponsible avoidance of DWI checkpoints that are in place to keep civilians safe.
Google refused the NYPD's request and fought back, stating that Waze keeps drivers safe with its traffic alerts by encouraging them to drive slower and that it aids traffic enforcement by raising awareness about checkpoints and advocating safe, sober driving, while also providing users with a quick way to find and access police assistance if necessary.
The debate surrounding the app centers around conflicting safety concerns, with opponents citing that the app's police-reporting tool enables drivers to divert away from cops, drive recklessly and continue endangering others on the road. Some also argue that Waze's tracking feature provides criminals with the resources to abduct children, rob banks or commit other illegal acts while escaping police detection. The other side of the argument has supporters claiming safer roads due to the app providing location information of police, crashes, debris and other unpredictable hazards.
What Legal Action Can LE Agencies Take?
Claiming that the apps places police officers in jeopardy is an understandable argument but may prove difficult to pursue in a court of law.
Although First Amendment rights, including free speech, are not unlimited, there have never been established rules that would allow law enforcement to covertly operate. To the contrary, in addition to the presence of CB radios and other technologies that have enabled drivers to notify each other of active police presence for years, it is also the right of private citizens to take video and audio recordings of police officers in public places. This said, the Waze tracker is stagnant, simply reporting if there is an officer present. The app does not disclose personal information such as officer names, movements or shift schedules.
There is likely no winning avenue for legal action to aid in the removal of the police-tracker feature. Both National Highway Traffic Safety Administration (NHTSA) standards and the seminal U.S. Supreme Court decision in Michigan v. Sitz, 496 U.S. 444 (1990) require sobriety checkpoints to be publicly announced. Under the First Amendment, Google is entitled to host this tracking feature, and people have the right to communicate information about police presence, even via a crowdsourcing app. Thus, it's hard to see how Waze's police feature crosses any First Amendment lines and the argument that the app promotes crime diversion is probably a dead end.
Officers in Danger
The National Sheriff's Association started a campaign in 2015 urging Google to remove the police-tracking feature from its app to protect law enforcement officers from the possibility of stalking or harm by an app user. This came in response to a surge of viral videos recording controversial and sometimes dangerous police interactions, sparking additional concerns about the potential for criminals to target police officers by using the app's location tracker.
An example of this scenario played out in December 2014 when two New York police officers were shot and killed by a gunman who, before the attack, posted screenshots from Waze and threatening messages aimed at law enforcement on social media. It is said that he used Waze to pinpoint the location of the two officers in order to assassinate them, before killing himself as well. While this information cannot be confirmed, some cops say the safety concerns surrounding the app are obvious.
What We Can Expect to See, Or Not to See
Given free speech considerations and the public's right to exchange information, it is unlikely that legal action will result in the termination of the app's police tracker. With free speech at the center of discussions surrounding the controversy, this is another example of free speech being pitted against safety concerns.
---
About the author
David C. Moser is an associate at Isaac Wiles Burkholder & Teetor, LLC (Columbus) where he focuses his practice on representing clients in the public sector. He handles misdemeanor prosecutions as an assistant prosecutor for several localities and outside of the courtroom, he regularly assists government entities with employment disputes, day-to-day legal advice, and civil litigation.