How co-responders help those suffering from mental distress
The University of Florida Police Department is pairing clinicians with officers to better support the campus community
---
Reprinted with permission from University of Florida News
By Cynthia Roldan
On a typical workday, Tiffany Bellesi sits in a patrol vehicle with her partner listening to police radio chatter.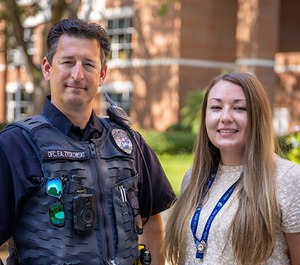 She keeps her ears peeled for information being relayed by University of Florida (UF) Police officers who may need her help. She also listens for the moment that a dispatcher calls on her for assistance. 
While Bellesi is not a police officer, she is paired with one. As the university's first civilian co-responder, Bellesi is tasked with responding to calls involving people who are distraught. 
During the summer of 2022, UF became the first higher education institution in the country to implement and integrate this partnered model of a "co-responder program" into a campus police department. The program pairs clinicians with law enforcement officers to assist and improve how the department interacts with members of the campus community suffering from a mental health crisis or experiencing mental distress.
 
Interest in this type of crisis intervention has been growing in recent years across the nation, as use-of-force policies and overall policing models have been placed increasingly under a microscope. Co-responders provide officers with the ability to defer the de-escalation process to mental health experts who are trained to assist those in distress in the least intrusive way possible. 
"No training law enforcement officers receive, no matter how extensive, can compare to professionally trained clinicians," UFPD Deputy Chief Darren Baxley said. "This type of program allows law enforcement to take a step back and yield to the experts when it's safe and appropriate to do so."
Crisis intervention initiatives  
Collaborations between law enforcement and mental health professionals are not new; the Department of Justice has documented such partnerships for at least 30 years. However, the co-responder approach is innovative, and its implementation varies by state, municipalities and sometimes even between local agencies. 
In UFPD's case, clinicians can perform a full mental status exam on the scene to determine if a person's behavior is mental or criminal in nature. Doing so reduces the chances of unnecessary hospitalizations and provides the person in crisis with immediate and better support.
During a typical call, Bellesi's uniformed colleague oversees and maintains a safe environment while she de-escalates the situation, assesses the person and determines next steps. That process includes methods employed by mental health therapists, such as observing the person's body language, identifying the cause of the distress, listening carefully, remaining calm and identifying and validating the person's feelings. 
While Bellesi's partner varies by shift, she is always paired with those who have received additional training for mental health-related calls. She hopes that as word spreads of the co-responder program, members of the campus community will see the police department as an additional resource instead of a place to turn to as a last resort. 
"We are really focused on making sure they are okay and connecting them to resources," Bellesi said. "Our goal is not to get anyone in trouble."
UFPD led the charge in placing an emphasis on mental health training for its officers long before it became a nationwide call. It requires its officers to take a 40-hour crisis intervention training annually. About 20% of officers in most law enforcement agencies undergo the same training. 
Additionally, the department was among six learning sites selected by the Bureau of Justice Assistance Council for State Governments in 2011 to provide resources for state and local agencies creating or improving programs that assist people with mental illnesses. 
UFPD has been in the vanguard of this policing model because of Chief Linda Stump-Kurnick's leadership, said Meggen Sixbey, Ph.D., a nationwide expert in law enforcement-mental health collaboration policies and procedures. Sixbey, a UFPD assistant director, oversees the department's Behavioral Services Division.
UFPD conducts focus groups with students who identify as holding marginalized or multiple marginalized identities to gain insight on how UFPD can better serve its community. The co-responder program is among several needs identified during those sessions. 
"Historically, the public has increased the various professional expectations given to police officers, expecting them to be experts in various professions," Stump-Kurnick said. "Despite their extensive mental health response training, the primary duties of a police officer are to maintain public safety and uphold the law. They are not mental health experts. So, we brought in the most qualified professionals in their respective field to do the job."
Co-responders help all
During her time as a co-responder, the majority of Bellesi's calls have been primarily "wellness checks," which is when a person concerned about a friend or family member calls law enforcement to check on them. She said the response from the person they are checking on tends to be varied.
Most of the time, they appear confused as to why people are knocking on their door, especially when the cases are as simple as the person had their phone off, Bellesi said. But there are other times when it is evident that the person has been going through a hard time. 
The program is available to the entire campus community, Bellesi stressed. When she first started in this role, Bellesi said she was expecting to work primarily with students. But her first, big call involved a UF staffer. She has since assisted other non-students on campus and patients at UF Health Shands Children's Hospital. 
Those successful interventions are proof that bringing the model to campus was a good choice, Stump-Kurnick said. 
UFPD is now looking to expand the program by hiring a second clinician to ensure a co-responder is always on duty. Every second counts when it comes to a person in distress, Stump-Kurnick said. And a call that may otherwise seem routine can quickly escalate. 
"It's going to take the pressure off so many officers," Bellesi added. "I think it's the future." 
Former staff writer Emma Richards contributed to this story. 
NEXT: How data sharing between police and mental health practitioners can improve outcomes