How data sharing between police and mental health practitioners can improve outcomes
Using a centralized incident management and response platform, law enforcement and mental health organizations can locate resources for individuals in crisis
---
By Akshay Birla
When people in the midst of a mental health crisis are not in a secure setting, they may act in ways that require police intervention. As a result, people with mental health problems frequently encounter law enforcement officials prior to or instead of the mental health services best equipped to treat them.
Without access to mental health professionals, police officers are often unable to assist these individuals, some of whom may be imprisoned as a result. That, in turn, is a poor use of valuable law enforcement resources. As a case in point, the Bureau of Justice Statistics has found that 43% of people who are incarcerated in state jails have a mental illness, straining the limited capacity of detention facilities.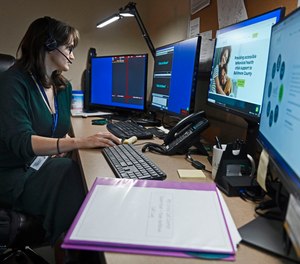 To ensure that people with mental health issues receive the care they need, communication between law enforcement and mental health services must be a top priority. While acknowledging the importance of enhanced collaboration is a first step, implementing it on a large scale requires leadership, technology and continuous process improvement.
Mental health care: The difficulties of closing the coverage gap
To improve mental health incident response, there are several obstacles in the healthcare system that must be overcome.
The first is a general shortage of hospital beds and outpatient mental health care services. The United States "is facing an urgent and rising scarcity of psychiatric beds," according to a new study in JAMA Psychiatry. The report notes that hundreds of patients in Massachusetts are on waiting lists for available beds, while over a thousand people in California who have been found to be mentally unfit to stand trial are currently being housed in correctional facilities.
Moreover, these figures only account for people whose information is already stored in waitlist databases. Finding a facility with the capacity for even a cursory assessment can be challenging for police officers responding to a call that involves a person with mental health difficulties.
The mental health training that police officers receive also varies greatly from one jurisdiction to the next. Some police academies provide extensive instruction on how to deal with people who have mental health problems, while others devote much less attention to this topic.
Another obstacle is that, in many circumstances, police departments lack a centralized and efficient means to communicate with local health agencies. This implies that even if officers believe that an individual needs mental health services, it may be time-consuming and difficult to connect with facilities in the region and ascertain if there is space available for patients. Although many state and municipal agencies have internal communication mechanisms in place, coordination between agencies is often ineffective.
Coordination in mental health services
Better communication and cooperation between police and mental health services would be universally beneficial.
Mental health practitioners have the highest chance of successfully assisting patients during or immediately after a mental health crisis and developing plans to mitigate subsequent episodes.
If individuals can be evaluated and treated before they are arrested or convicted, jurisdictions could relieve some of the burden faced by law enforcement and prison systems.
Finally, community well-being would be enhanced if more streamlined and compassionate systems were put in place to support vulnerable individuals while also judiciously deploying public funds.
Rather than defaulting to arrest or incarceration, police forces would be better served by establishing direct relationships with mental health institutions. Connecting with mental health facilities and finding the best fit for the patient saves time and energy that would otherwise be spent on other law enforcement activities.
However, this requires collaboration between multiple stakeholders. For example, when an officer determines that an individual should be connected with mental health services, there is no guarantee that there will be a bed available at a local mental health facility, even if police officers are familiar with it. As a result, police officers may have to wait long periods of time with patients before they can be safely transferred to the care of mental health professionals, effectively lowering the number of officers available to respond to other incidents.
Sharing data between law enforcement and mental health
Coordination among key internal and external stakeholders across the public and private sectors is essential for effective emergency management. A well-designed program that appropriately triages individuals should facilitate interaction between participants, the exchange of relevant data and the coordination of tasks. With an incident management and response platform, departments can:
Connect disparate data sources: Police departments and healthcare professionals both utilize their own industry-specific terms. Technologies for incident management and response address this issue head-on by putting the spotlight where it belongs – on the mission objective of quickly, efficiently and professionally directing individuals to the appropriate resource. Using a shared vocabulary co-created by multiple stakeholders can help parties reach an agreement faster.

Nearly every health system, government agency and police department operate with different systems and workflows. With a coordinated incident management platform, separate workflow solutions can be connected to support the exchange of information between police officers, dispatchers, and healthcare professionals. This way, stakeholders can easily share pertinent information such as bed availability data to quickly find the necessary care for someone experiencing a mental health crisis.
Share information between jurisdictions: Using a centralized incident management and response platform, law enforcement and mental health organizations can share information across jurisdictional boundaries and locate resources such as beds or specialists. If police officers have responded to a call about a distressed person and concluded that the person requires specialized treatment, they would be able to save both time and resources by contacting a nearby hospital in a neighboring state, county, or municipality that has room when all the local hospitals are full.
Show return on investment: By employing modern emergency workflow technology, state and local governments can easily share critical data with all key stakeholders. Instead of piecemealing together separate data sources to show value, a web-based information management platform enables law enforcement to easily group together data from a variety of separate sources into one intuitive dashboard. This demonstrates ROI by reallocating law enforcement time to more productive uses and connecting individuals with appropriate resources faster, thereby garnering support for additional investments and further improving police and mental health resource collaboration.
Committing to data sharing for patient safety
Mental health professionals can connect with patients who are actively enduring or have just recently experienced a mental health crisis through web-based solutions that improve communication and information sharing. Instead of resorting to arrest or incarceration, police often find that establishing direct contact with mental health services is the most effective way to resolve incidents involving vulnerable individuals.
Agencies can improve teamwork and communication across jurisdictions without risking sensitive patient information by using cloud-based emergency management software.
The expanded collaboration between mental health professionals and law enforcement through secure information-sharing platforms can increase patient safety and facilitate more efficient use of available resources, benefiting everyone in the community.
NEXT: The benefits of employing social workers in your law enforcement agency
---
About the author
Akshay Birla is vice president and chief marketing officer at Juvare, a provider of emergency management solutions for public and private organizations committed to optimizing their resilience strategies. He previously led Juvare's Public Health and Healthcare vertical. Juvare's solutions are used across a broad range of industries, including healthcare, aviation, education and utilities, as well as state and local governments, federal agencies and government defense organizations.