NM police union: Paid leave cut for officers in military
Police officers serving in the guard or reserves are only receiving 150 of their allotted 420 hours for military leave
---
By Dan McKay
Albuquerque Journal, N.M.
ALBUQUERQUE, N.M. — Albuquerque's police union says City Hall abruptly reduced the paid leave available to officers serving in the military this year, forcing some to tap into their vacation and sick time.
At least one officer is overseas and worried about a pay cut because he's exhausted his vacation and sick leave, the union said.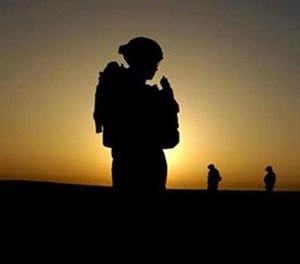 "It's a huge impact for these families," Shaun Willoughby, president of the Albuquerque Police Officers' Association, said in an interview Wednesday. "... We have military officers that are concerned about whether they're going to be able to pay their mortgage."
The APOA union contract says police officers who also serve in the National Guard, Air National Guard or military reserves are entitled to up to 420 hours of paid military leave a year, or about 50 regular work days, if they meet certain requirements.
But since March, the city's payroll system has been granting them only up to 150 hours, Willoughby said.
Rob Perry, the top administrator under Mayor Richard Berry, said the goal is simply to ensure officers receive paid leave only when they actually need it -- not grant them the entire 420 hours if they're only serving a couple of weeks.
He said he intends to ensure that any officer who's serving in the military up to the 420-hour limit is paid for the time, as called for in the union contract.
The confusion may be a result of a change in the city's new electronic timekeeping system, Perry said.
Representatives of the union and Berry administration plan to meet to address the handling of military leave.
Nevertheless, Willoughby said, the limit on military leave has turned into an incredible source of anxiety for officers. He estimated 30 to 50 officers serve in the military.
"Every time I tried to get to the bottom of this situation, I get a different answer," Willoughby said.
The union filed a complaint with the city labor board in March, accusing the city of unilaterally reducing the limit on military leave. In a brief response, the city denied the allegation and said it was investigating the matter.
The complaint is pending.
Paid military leave has been part of the police union contract for roughly 17 years, with no recent changes, Willoughby said.
The goal is to attract officers with military experience and to recruit people who want to pursue careers in both law enforcement and military, he said.
McClatchy-Tribune News Service