Cruisin' for a cause: Motor cops ride to help kids with life-threatening illnesses
For these veteran cops who have pretty much seen and heard it all, the charity ride is an experience like no other
---
Twenty-two years ago, NASCAR driver Kyle Petty combined his passion for helping others with his love of motorcycles and created the Kyle Petty Charity Ride Across America. Petty's inspiration came in 1994, when he and three friends rode their motorcycles from North Carolina to a NASCAR race at Phoenix International Raceway. Friends joined him along the way, and by the time they reached Phoenix, there were 30 riders. As a result of the turnout, Petty was inspired to make the event into something greater and, thus, initiated the charity ride that honors his late son.
It is one of the most popular and successful charity events in the country. Celebrities, ride sponsors, motorcycle enthusiasts, fans and local communities create awareness and raise funds for Victory Junction. More than 7,750 riders have logged 11.4 million motorcycle miles and raised $16.5 million for Victory Junction and other children's charities.
Located on 84 acres located in Randleman (N. C.), Victory Junction has served as the ride's primary beneficiary. It exists to enrich the lives of children with chronic or life-threatening illnesses and creates camping experiences that are memorable, fun, empowering, physically safe and medically sound. More than 7,880 children have attended Victory Junction at no cost to their families as a result of the ride.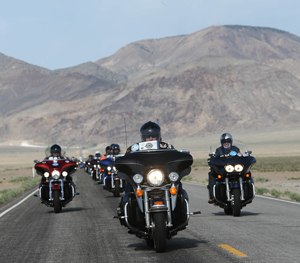 Motor Officers' Involvement
"We start somewhere different every year. We have to go through places where our sponsors have businesses," said Victor Misenheimer, a retired Lieutenant from the North Carolina State Highway Patrol (NCSHP). Misenheimer has been involved in the charity ride since 1997. He serves as the Motor Marshal and is one of the seven motor marshals that assist with the event.
Along with the other marshals, Misenheimer volunteers a week and a half to the charity ride to help raise money for less fortunate children. All seven motor marshals have a background in motorcycle patrol and two of them have advanced rider training. Three of the seven are retired from the NCHSP, two are still active with NCHSP, one is retired from the California Highway Patrol (CHP) and one is a nationally registered paramedic. The paramedic rides at the back of the group with another marshal, and they assist the group riders if mechanical issues, medical emergencies, or motorcycle collisions occur.
All seven motor marshals and charity ride team members have two-way radios to maintain situational awareness. In addition, two registered nurses and two physicians comprise the medical staff that accompanies them, and they drive an SUV behind the motorcycles carrying medical supplies that may be needed. Behind the SUV are two vehicles that pick up motorcycles if flat tires or mechanical issues arise, but those instances are rare.
Misenhiemer's role is to serve as the first motorcycle riding in front of the Charity Ride pace car. He sets the speed of the group. With more than 100 motorcycles, it can be described as a "train." It takes him several miles to get everybody up to speed.  The same applies for the process of slowing down for scheduled stops - which reduces hard acceleration to catch up from those in the rear of the group and also reduces the amount of hard braking when stopping.
"We're like a huge family. Most people are repeat riders," Misenhiemer said.
There can be more than 200 people participating in the ride, and riders often bring their wives with them. "Each day's ride depends on where we can get lodging from one day to the next. There is no minimum mileage. We can average 250-300-450 miles per day," he said.
The ride begins on April 30 this year in Palm Springs, California. From there, the ride will hit Phoenix (Ariz.), El Paso (Texas), Lajitas (Texas), San Antonio (Texas), Beaumont (Texas), and Biloxi (Miss.). The ride covers 2,000 miles in seven days.
All About the Kids
The main reason for Misenhiemer's involvement is to raise money for the children.
"Just to see those kids — that's what does it for me," he said.
Though he describes himself as an emotionally "tough" person, Misenhiemer admits he is affected by the children. They range in age from six to 16 years old and are burdened with chronic and life-threatening illnesses.
"It's truly a life-changing experience to see so many people come together for a great cause. Words can't describe what the experience is like. The biggest thing is it is a life-changing experience to help children who haven't been able to live the life of a normal child," Misenhiemer said.
The riders develop close bonds, and the motor marshals act as liaisons with law enforcement agencies. "We all love what we do to help the ride," Misenhiemer said.
T.J. Lyons, a retired police 25-year law enforcement veteran from Dayton, Ohio also participates in the ride. He serves as the support truck driver. "I enjoy it. This is my seventh year with the ride, and I have become part of the family. It fills the gap of the family of law enforcement that you lose when you leave, especially when you move out of state," he said.
Like Misenhiemer, Lyons is impacted by the children. "It's about them — not us. I know what I do is not near what the benefactors do — it costs $2,500.00 for a child to go to camp," Lyons said. 
Those involved in the ride are challenging themselves, and everything they do is for the children. "Seeing that is great satisfaction. People that do it become part of the family. Charity officers become part of the family. The camaraderie of going to these different cities and towns and seeing motor officers give me a connection back to them," Lyons said.
Mark Brown, a retired North Carolina Highway Patrolman and also a former Marine, serves as a lead instructor for all North Carolina motorcycle training. His participation in the charity ride has impacted him significantly.
"I fell in love with the people and the cause. Once you become part of this ride, you become part of the unique team. It's very rewarding to do this. It's a really nice feeling," Brown said.
He admits that his experience with the Highway Patrol was beneficial in helping him to prepare for the event. "When you see that kid smile, it really touches your heart. It really humbles you and opens up your heart like you wouldn't believe," Brown said.
For these veteran cops who have pretty much seen and heard it all, the charity ride is an experience like no other. Observing the reactions of delight on the faces of these less fortunate and seriously ill children whose lives they touch through their generous personal donation of time is an experience that leaves a lasting impression. For more information and to find out how you can get involved, visit the Kyle Petty Charity Ride Across America website.