Calif. deputy killed in shootout identified
Deputy Adam Gibson and K-9 Riley died in a shootout that also left the suspect dead
Duty Death: Adam Gibson - [Sacramento County, California]
End of Service: 01/18/2021
---
By Michael McGough, James Patrick, and Sam Stanton
The Sacramento Bee
SACRAMENTO — Sacramento Sheriff Scott Jones has identified the deputy killed in a shootout Monday night as Adam Gibson, a six-year veteran of the office and father of an infant girl.
A law enforcement source said Gibson, 31, was killed in a shootout with Robert Stephen Calderon, a 46-year-old Sacramento man with an extensive criminal background.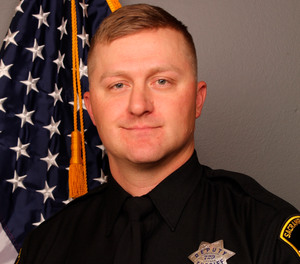 The source spoke on the condition of anonymity because they were not authorized to discuss the ongoing investigation.
Sheriff's deputies approached Calderon near the Ardendale strip mall on Arden Way, near Morse Avenue, around 10:07 p.m. Monday when they saw "an occupied vehicle in a parking lot near Arden Way and Avondale Avenue that matched the description of a vehicle involved in a burglary series," the Sheriff's Office said in a statement.
"Deputies initiated contact with the single occupant of the vehicle and were able to identify the subject as being on active parole," the statement said. "The subject became uncooperative and fled in his vehicle when deputies attempted to search the vehicle."
After a brief pursuit, the suspect's vehicle became disabled after hitting a curb near a chain link fence at Cal Expo.
"Deputies gave several commands for the suspect to exit his vehicle and he refused," the Sheriff's Office said. "Deputies deployed less-lethal 'bean bag' rounds into the suspect vehicle's back window in an attempt to see inside.
"A K-9 handler deployed his K-9 into the back window of the vehicle at which time several shots were fired from within the vehicle. Two deputies and the canine were struck by the suspect's gunfire. Multiple deputies returned fire."
The deputies struck by gunfire were transported to the Kaiser Medical Center on Morse Avenue.
Gibson was pronounced dead at the hospital.
The second deputy, whose name was not released, was transferred to a Sacramento-area hospital and is expected to recover, Jones said. He is 43 and a 13-year veteran of the Sheriff's Office.
Calderon was shot and killed during the shootout.
"He is deceased as well," Jones said.
According to Jones, the shooting happened on Cal Expo grounds and will therefore be investigated by the Sacramento Police Department due to jurisdiction. Jones said he had "no reason to believe this was an ambush or planned attack."
Jones said Gibson is survived by his wife, Rachel, and a 9-month-old child. The deputy served two tours of duty in Afghanistan with the U.S. Marine Corps and in 2018 received the Sheriff's Office bronze star for bravery and a major incident ribbon.
As of 7 a.m., about a dozen Sacramento police and Sacramento County sheriff's vehicles remained at the scene, near the horse race track at Cal Expo. The shootout happened about 100 yards from a coronavirus vaccination site near Exposition Boulevard. The vaccination site appeared to be operating early Tuesday morning.
Jones told TV reporters early Tuesday that the shootout involved a large amount of gunfire, which likely means the investigation will be extensive.
Cal Expo also had a large National Guard presence in the parking lots along Exposition Boulevard on Tuesday morning. The National Guard has been deployed in Sacramento, as well as other state capitals, due to concerns of political unrest and violence during the week of the presidential inauguration.
Last Friday night, a deputy in the Sacramento County Sheriff's Office gang suppression unit was struck by gunfire while conducting a follow-up investigation in Carmichael. That deputy, a 47-year-old who has been with the Sheriff's Office for 15 years, was hospitalized "in serious, but stable condition and is expected to survive," the Sheriff's Office said in a prepared statement.
Gunfire broke out during Friday's incident after detectives made contact with occupants of a vehicle, and one suspect was killed, but it is unclear who fired upon whom.
There has been no indication that the Friday and Monday incidents were connected.
Monday's fatal shooting is the first line-of-duty death of a Sacramento County sheriff's deputy since September 2018, when Deputy Mark Stasyuk was killed in a firefight at a Pep Boys Auto Parts store in Rancho Cordova.
(c)2021 The Sacramento Bee (Sacramento, Calif.)
McClatchy-Tribune News Service