Houston officer shot and killed; suspect sought
Sgt. Sean Rios was a 25-year veteran of the department
Duty Death: Sean Rios - [Houston, Texas]
End of Service: 11/09/2020
---
By Julian Gill and Nicole Hensley
Houston Chronicle
HOUSTON, Texas — Houston police Sgt. Sean Rios on Monday was driving to his regular 2 p.m. shift at George Bush Intercontinental Airport when minutes before he was to clock in, the 25-year veteran staggered into a motel lobby along the North Freeway with a gunshot wound.
Rios, a 47-year-old father of four, became the fourth Houston peace officer killed in the line of duty this year following a gun battle with a suspect who remains at large.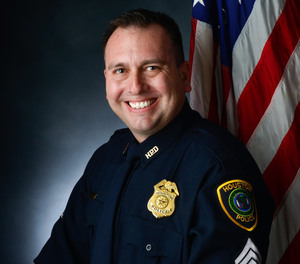 His death capped off a violent day across the Houston-area that saw four other killings in a five-hour stretch.
"A lot of things are happening on our streets," Mayor Sylvester Turner said during a news conference at the shooting scene. "There's a lot of people who are on edge. So I just want people to pray for our city and to ... bring emotions down and bring the violence down. Because this is a tragic case, and it's just been a very rough year in our city."
Rios had been a sergeant for at least a decade, said Houston Police Officers Union Vice President Doug Griffith, who knew Rios from their days in the Southeast Patrol Division.
Griffith described him as fun-loving and laid-back. He loved spending time with his family. His kids' ages range from 9 to 17. Two of his cousins also are Houston police detectives.
"It's very uncharacteristic for him to ever be involved in anything off duty," Griffith said.
Griffith added that Rios transferred posts about two months ago from Hobby Airport to George Bush Airport.
Details about what led up to the shooting were still murky Monday evening, according to Houston Police Chief Art Acevedo.
Rios was driving his personal vehicle and not in uniform at the time, police officials said.
Around 1:30 p.m., police started receiving calls about multiple shots fired near the Interstate 45 northbound frontage road at Stuebner Airline. There, Acevedo said Rios was wounded in a "gun battle" with the shooter, who was driving a blue 4-door Mercedes Benz.
Rios then ran about 75 yards to the lobby of the Taj Inn & Suites, where he collapsed and was pronounced dead, Acevedo said.
Ghasan Azar heard the gunfire while on his way to check the mail at his business off the North Freeway. As he walked along the frontage road, he saw the officer appearing to run.
"I saw the way he was running. He was not running right," Azar said.
He then saw the officer stagger into the motel lobby and collapse.
Investigators have located the suspect's blue Mercedes — captured on surveillance footage — but Acevedo declined to give a location. He said police also identified another person of interest who accompanied the shooter in a black pickup but did not give a description.
Police do not yet know whether an earlier dispute sparked the violent encounter. Rios was outside of his vehicle when the shots rang out, Acevedo said. The sergeant could not relay information about his assailants before he died, he said.
Police are checking 911 calls around the time of the shooting and examining Rios' cellphone for any further evidence.
Acevedo said he did not know whether the suspect was shot. During a news conference, Acevedo addressed the shooter directly.
"We've got leads that I'm not going to talk about," Acevedo said. "But we have leads and we are going to catch you."
The sergeant's death followed four killings in a five-hour stretch from Houston's Chinatown to Montrose and a few blocks west of Jack Yates High School.
Officers were dispatched first to a fatal shooting along Montrose Boulevard, near Colquitt Street, around 6:45 a.m., and minutes later, another shooting in an Alief ISD elementary school parking lot.
A third death was reported around 8 a.m. when a man was stabbed to death outside a group home in the 5100 block of Yellowstone Boulevard. By noon, a fourth man was killed in the 2700 block of Alabama Street in Third Ward.
The killing also comes less than a month after the shooting deaths of two other Houston peace officers: Lemuel Bruce and Harold Preston. Bruce, an arson investigator with the Houston Fire Department, was shot and killed Oct. 16 by arson suspect Joshua De La Cerda in Houston's Timbergrove neighborhood, where Bruce had been investigating a recent string of fires. De La Cerda died by suicide, authorities said.
Preston, a 41-year veteran of the Houston Police Department, was killed Oct. 20 while responding to a domestic dispute at an apartment complex on Holly Hall, about half a mile south of the Medical Center. Police say Elmer Manzano shot Preston and another officer, Courtney Waller, as they responded to a dispute between Manzano and his wife at the apartment.
Earlier this year, on May 2, Houston Police Officer Jason Knox died in an early-morning helicopter crash while responding to reports of bodies in the bayou at Imperial Valley near Benmar. The aircraft careened into the apartment clubhouse.
"It's truly sad we have to bury another one of our brothers," Griffith said.
(c)2020 the Houston Chronicle
McClatchy-Tribune News Service