Texas deputy dies trying to save others from wildfires
Sgt. Barbara Fenley went off the road in the smoky haze and "was engulfed by fire," police said
Duty Death: Barbara Fenley - [Eastland County, Texas]
End of Service: 03/17/2022
---
By James Hartley
Fort Worth Star-Telegram
EASTLAND COUNTY, Texas — Barbara Fenley joined the Eastland County Sheriff's Office in 2013, the county said in a post to its Microplex News blog. A deputy sergeant, Fenley went on Thursday to check on an elderly person after the Eastland Complex Fire began threatening the county. With smoke making it hard to see, Fenley went off the roadway and "was engulfed in fire," according to the post.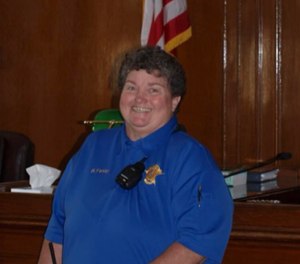 Fenley, a 51-year-old who had been in law enforcement since she joined the Gorman police in 2003, had a husband and three children. She was chief of police there from 2007 until 2013, when she joined the Eastland County Sheriff's Office, about 100 miles west-southwest of Fort Worth.
As multiple wildfires spread within 100 miles west of Fort Worth on Friday, the National Weather Service said low humidity and gusty winds have caused a continued elevated fire risk in the region west of I-35.
The Eastland Complex Fire — which began on Thursday after multiple fires in Eastland County combined, including the Walling Fire — killed Fenley and has destroyed more than 50 homes and put livestock at risk. No other fatalities had been reported as of Saturday afternoon.
By Friday afternoon the Eastland Complex Fire had burned about 70.9 square miles. On Saturday afternoon, the fire covered about 45,000 acres and was 15% contained, the Texas A&M Forest Service said.
Gov. Greg Abbott at a news conference presented a flag to Anna Olvera, present to represent all of Fenley's family, a flag that had flown at half staff over the Texas Capitol earlier in the day as a sign of the state's gratitude.
"We are sorrowful for her loss of life, but we as a state have great appreciation for her service, for stepping up, for doing what Texas law enforcement officials do every day," Abbott said of Fenley. "They put their lives on the line to preserve and protect their communities."
The county said Fenley sacrificed herself for her neighbors.
"Sgt. Fenley gave her life in the service of others and loved her community," the county said in the Microplex News post.
Cisco police called Fenley "our sister" and a friend who will be missed.
"She was special servant and an attribute to our profession," the department said in a Facebook post. "We will kneel in prayer for her family, friends and colleagues as they mourn."
Jon Fenley, her son, thanked the community in a Facebook post for the love and prayers his family has seen since Barbara Fenley died.
"I wanna thank everyone for the thoughts and prayers, and I wanna thank everyone for helping us find Mom," Jon Fenley said. "Unfortunately, with the saddest news my mom has passed away. I just ask that you give us privacy in this moment while we collect our thoughts. I love everyone and I know she loved everyone and she loved the community of Gorman and Eastland County."
(c)2022 the Fort Worth Star-Telegram
McClatchy-Tribune News Service