Vt. officer, aged 19, killed after suspect crashed into police cruiser during pursuit
Rutland PD Officer Jessica Ebbighausen, a part-time officer, was scheduled to start training in August at the Vermont Police Academy to become a full-time officer
Duty Death: Jessica Ebbighausen - [Rutland, Vermont]
End of Service: 07/07/2023
---
Associated Press
RUTLAND, Vt. — A Vermont police officer was killed and two other officers were injured when a burglary suspect crashed into two police cruisers pursuing him, Vermont State Police said.
Rutland City Police Officer Jessica Ebbighausen, 19, was killed on Friday afternoon. The crash happened as police chased a vehicle driven by Tate Rheaume, 20, a suspect in an attempted break-in at a house, state police said.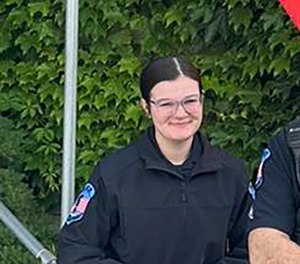 Evidence indicates that Rheaume crossed the centerline and collided head-on with Ebbighausen's cruiser, police said. The suspect's truck also hit another police cruiser.
Ebbighausen was pronounced dead at the scene. Two other officers and Rheaume were taken to Rutland Regional Medical Center for what are believed to be non-life-threatening injuries, police said. Rheaume was transferred to the University of Vermont Medical Center in Burlington.
State police said they are investigating the role impairment and speed played in the crash and are working with the Rutland County state's attorney on potential charges. It was not immediately known if Rheaume is being represented by an attorney.
Ebbighausen, of Ira, Vermont, started working with the Rutland Police Department in May as a part-time officer, state police said. She was scheduled to start training in August at the Vermont Police Academy to become a full-time officer, police said.