2 officers hurt in Vegas copter crash
Police helicopter crashed on a residential street Wednesday and two officers were taken to a hospital for treatment of moderate injuries
---
By Ken Ritter
Associated Press
LAS VEGAS — A Las Vegas police helicopter crashed on a residential street Wednesday and two police officers were taken to a hospital for treatment of moderate injuries, authorities said.
It wasn't immediately clear what caused the four-seat MD-500 helicopter to go down just before 1:30 p.m. northeast of downtown Las Vegas.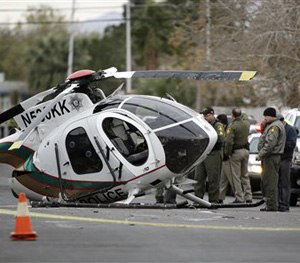 Police Sgt. John Sheahan said the crash occurred just seven minutes after the aircraft took off from its base at North Las Vegas Airport, about 5 miles from the crash site. The pilot and co-pilot were helping with a search for a stabbing suspect at the time.
Sheahan said the pilot was able to make a distress call before the chopper hit the ground. The Federal Aviation Administration and National Transportation Safety Board were investigating, he said.
The two men reported what Sheahan described as moderate back injuries.
Police Officer Laura Meltzer said the officers were taken to University Medical Center and they might be released within hours.
There were no reports that anyone on the ground was hurt.
The wreckage didn't catch fire. At least one of the four main rotor blades appeared to be missing and a landing skid broke, leaving the white helicopter with a red tail and green and gold stripes tilted on its side in the neighborhood of single-story homes.
It wasn't immediately known if weather was a factor. The crash happened on a cold day with overcast skies and occasional snow flurries in mountain elevations, but no flakes accumulated in the downtown and Las Vegas Strip area. Winds were light, about 10 mph.
Records show the twin-engine helicopter that crashed was built in 2009 and delivered to Las Vegas police in 2010. It is one of six operated by the Las Vegas Metropolitan Police Department, Sheahan said.
The crash came six weeks after Clark County District Attorney Steve Wolfson closed a probe of a whistleblower police lieutenant's claim that department administrators improperly buried a report alleging corruption and misconduct in the aviation unit.
Wolfson said he found no evidence of improper governmental action.
Retired Lt. Gawain Guedry and police Sgt. Leonard Lorusso had claimed following two near-fatal helicopter crashes in 2012 that police higher-ups abused authority with actions that threatened public health and safety.
The MD-500 helicopter is routinely used for patrol, aerial support and as an aerial observation platform at events like the annual New Year's Eve fireworks celebration. The event Wednesday night was expected to draw some 340,000 revelers to the Las Vegas Strip.
Copyright 2014 The Associated Press