Photo: Mich. police shoot teen with replica handgun
A witness and friend of the teen said he only raised his hand half-way when police told him to put his hands up
---
By Tom Hillen
WOOD TV
BATTLE CREEK, Mich. — A Battle Creek officer shot a 14-year-old who was showing a gun, police — though that weapon turned out to be fake.
Officers were first called to the area of South Washington Avenue and Upton Street around noon Saturday after reports of a man with a gun walking next to a woman, according to a release from the Battle Creek Police Department. The subject, who witnesses said was carrying a black pistol, then started running through some bushes toward a party store on the corner of Washington Avenue and Grove Street, officers were told.
An officer who saw the subject ordered him to show his hands, at which point the subject "produced" what looked like a large-caliber handgun. The officer fired one shot at the subject. The subject dropped the gun and took off. Officers found him not far away with a gunshot wound. The gun was not real, officers found, and was actually a replica Smith & Wesson semi-automatic handgun.
Full Story: PD: Officer shot teen who had fake gun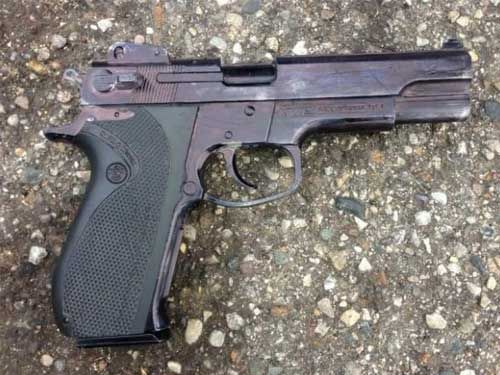 (Photo courtesy Battle Creek Police)