Police: NFL star threatened to sexually assault officer's wife
New York Jets receiver Robby Anderson reportedly told Officer Jonathan B. Henessy that he was going to find his wife and "f--k her and nut in her eye"
---
By Police1 Staff
SUNRISE, Fla. — An NFL star threatened to sexually assault a Florida officer's wife after being arrested for speeding.
NJ.com reports that New York Jets wide receiver Robby Anderson, 24, was pulled over Friday after driving 105 mph in a 45 mph zone for about three-quarters of a mile. Anderson was "all over the roadway" before Officer Jonathan Hennessy finally stopped and arrested the athlete.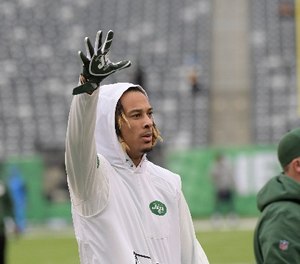 When Hennessy tried to put Anderson in his squad car, the wide receiver tensed up and refused to get in. Anderson later told the officer that he was going to find his wife and "f--k her and nut her in the eye" once he was released from jail.
"He continued [to] make other verbal threats towards my family," Hennessy wrote in a police report. "Based on his statements, it was clear that he intended to sexually assault my wife. He also began to brag about how much money he has and how all I was doing was trying to ... 'ruin his fun.'"
This was not the first time Anderson has been arrested. In May, he was arrested at a music festival after pushing an officer during a dispute.
Anderson faces several charges, including felony threatening a public servant or family member.
Read the full police report below:
Robby Anderson arrest report by DarrylSlater on Scribd