Report details police actions to stop Molotov-wielding suspect setting cruisers on fire
Four officers engaged with the suspect for roughly six minutes trying to de-escalate the situation
---
By Avi Bajpai
The News & Observer (Raleigh)
RALEIGH, N.C. — Raleigh police officers fired 30 rounds at a man who threw burning liquid at officers after driving to a police station in Southeast Raleigh last week armed with Molotov cocktails, according to a city report released Friday. 
[Report available in full below.]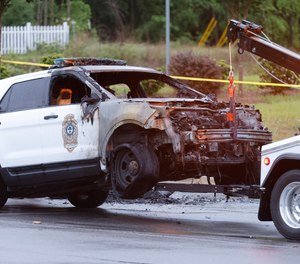 Four officers engaged with 37-year-old Reuel Rodriguez Núñez for roughly six minutes, repeatedly commanding him to put down the flammable weapons, officials said. (An initial report from police had incorrectly stated 16 minutes elapsed between the first officer's arrival and the shooting.)
When Núñez tried to throw a Molotov cocktail in the direction of one of the officers, only missing him because the officer moved out of the way, all four officers fired their guns at Núñez.
Núñez was taken to a hospital but did not survive.
The report does not state how many times Núñez was struck, although radio traffic between officers and dispatchers released by police last week indicated that he suffered at least four gunshot wounds. It also states an incorrect time of the shooting, which The News & Observer clarified with a police spokesperson after the report's release.
The report identifies the four officers as Lt. M.F. Schabel, the first to arrive, and Senior Officer B.A. Beausoleil, Master Officer P.W. Coates, and Officer M.M. Oreskey, all of whom responded to a request for assistance from Schabel. All four officers have been placed on administrative duty, as is department protocol whenever an officer shoots someone.
Report details efforts to set cars on fire, attack officers
According to the report, Núñez showed up at the police station in a silver van carrying weapons at 1:02 p.m. He parked the van at the north end of an adjoining parking lot and walked to the entrance of the police station, where he threw "what was believed to be fecal matter and urine."
He proceeded to set two vehicles in the parking lot on fire, one of which was an RPD patrol car, with the Molotov cocktails, which the report describes as "flammable liquid poured into cups and set on fire."
Schabel arrived at the station at 1:18 p.m., 16 minutes after Núñez showed up, according to the report. He requested assistance from the Raleigh Fire Department to extinguish the burning patrol car. He also asked for help from additional officers, and advised them to be careful because he believed Núñez was carrying gasoline as well.
Núñez proceeded to throw a Molotov cocktail toward Schabel, who remained inside his patrol car and backed away from the scene.
Once Beausoleil, Coates, and Oreskey arrived, they gave Núñez multiple commands to stop, telling him "do not do it" and "don't do any more." Núñez didn't comply, according to the report, and continued throwing flammable liquid at Schabel's car.
The officers briefly backed away before continuing to try to engage Núñez and de-escalate the situation, the report states. It also notes that after getting out of his car, Schabel spoke to Núñez "without his weapon drawn."
One of the officers, Coates, approached Núñez from Rock Quarry Road, as the other officers moved in closer and "continued give direct, unequivocal commands to stop." Coates was the closest to Núñez when he told Núñez, who was armed with another Molotov cocktail, "go ahead [expletive], do it, do it." Coates then asked the other officers to "give me the go ahead."
Nuñez lit the weapon and threw it at Coates, who dodged it and fired his gun at Núñez, as did the three other officers.
They then moved Núñez away from two cars that were burning nearby and performed CPR. The report states that EMS and Fire Department personnel arrived to treat Núñez and extinguish the vehicles after "the area was secured."
The updated report states that approximately six minutes passed between Schabel's arrival ( 1:18 p.m.) and when the four officers fired their weapons ( 1:24 p.m.).
Each officer was wearing an activated body camera during the incident. The encounter between Núñez and the officers was also captured by nearby security cameras and dash cameras from marked patrol cars in the parking lot. Police plan to ask a judge to publicly release the "agency recordings," the report states.
State law requires law enforcement departments to file a court petition when body camera footage of a police shooting is being sought.
Five Day Report Southeast District Parking Lot by epraetorian on Scribd
2nd fatal shooting by RPD this year
The fatal shooting is the second by Raleigh police, and the sixth overall by Triangle law enforcement officers this year.
In January, Raleigh officers responded to a crash on the side of Interstate 440, where they found 43-year-old Daniel Turcios and his family. While investigating the wreck, officers gave Turcios multiple commands to drop a knife he was holding, and when he didn't comply, an officer tased him in the back.
Officers tried to pin him down but Turcios lunged at one of the officers with the knife, prompting another officer to shoot him multiple times. The shooting was condemned by activists and Turcios' family, who later called for the officers who tased and shot Turcios to be prosecuted.
©2022 Raleigh News & Observer. Visit newsobserver.com. Distributed by Tribune Content Agency, LLC.
McClatchy-Tribune News Service