Rookie Louisville officer who was shot in the head is 'on the right track' in recovery
Officer Nickolas Wilt graduated from the police academy March 31 and was working his fourth shift as a police officer when he was shot
---
By Christopher Leach
Lexington Herald-Leader
LOUISVILLE, Ky. — Nickolas Wilt, the Louisville police officer injured in the Old National Bank mass shooting, continues to show signs of improvement after recently being transferred to the Frazier Rehabilitation Institute, according to the Louisville Metro Police Foundation.
Doctors, nurses and therapists have been impressed with Wilt's progress. The foundation said in a Facebook post that Wilt's "wakefulness has significantly increased" since he began his rehab.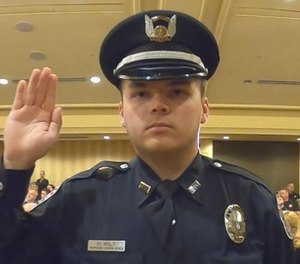 The foundation said Wilt is "on the right track" but there are a few areas doctors are closely monitoring.
"Despite the challenges he faces on his long road to recovery, his dedication and hard work have yielded noticeable improvements," the foundation said in the Facebook post.
Wilt was taken off all life-sustaining medical equipment on May 10, according to the foundation. He has also shown neurological improvement and is able to follow some commands.
Wilt has been hospitalized since April after he was shot in the head by a gunman armed with an AR-15. He has battled pneumonia and other infections during his hospitalization.
The bullet that struck Wilt remained in his head as of last week, according to the Louisville Metro Police Department. Doctors determined the bullet is in a crucial area but does not pose a threat to his brain or blood vessels, and the damage from the injury is minimal.
Wilt has also worked as a firefighter and dispatcher. He graduated from the police academy March 31 and was working his fourth shift as a police officer when he was shot.
—
©2023 Lexington Herald-Leader.
Visit kentucky.com.
Distributed by Tribune Content Agency, LLC.
McClatchy-Tribune News Service