Spitting at cops: Depending on where it lands, this Minn. county won't prosecute
Police union officials called the new policy "bizarre and reckless considering the global pandemic"
---
By Suzie Ziegler 
MINNEAPOLIS — The Hennepin County Attorney's Office says it won't prosecute anyone accused of spitting on an officer's uniform or boots. 
According to CBS Minnesota, Hennepin County will now only prosecute felony cases when a person spits on an officer's hands or face. The current Minnesota law says anyone who "intentionally throws or otherwise transfers bodily fluids or feces at an officer" is guilty of a felony.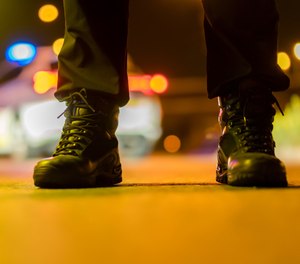 "We think the harm caused by spitting on the boot or uniform does not rise to the level of spitting on the face or hands," Hennepin County Attorney Mike Freeman told reporters. 
Police union officials denounced the change in a statement obtained by CBS Minnesota. 
"It's ridiculous the Hennepin County Attorney's Office will not uphold state law and not prosecute felony-level assault," wrote the Minnesota Police and Peace Officers Association. "Just as violent crimes in our communities are increasing, physical assaults of law enforcement officers are also increasing. This decision is also bizarre and reckless considering the global pandemic."
RELATED: Shot at and missed, spit at and hit