Father of slain Dallas officer sues Black Lives Matter
The suit claims Dallas ambush shooter Micah Johnson fired at officers because he was incited by the BLM anti-police rhetoric
---
By Claire Z. Cardona
The Dallas Morning News
DALLAS — The father of one of five officers slain July 7 in downtown Dallas is suing Black Lives Matter for the death of his son. 
Enrique Zamarripa, father of Dallas police Officer Patrick Zamarripa, on Monday filed a 43-page lawsuit in the U.S. District Court of the Northern District of Texas.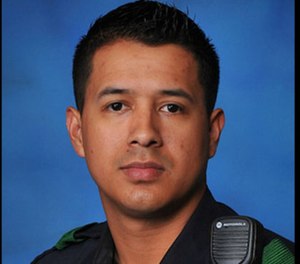 In the suit, he blames the national organization and 13 other defendants, including the Nation of Islam, Reverend Al Sharpton, the New Black Panthers Party and Black Lives Matter activist DeRay McKesson in the deadly ambush. 
He is seeking damages of up to $550 million.
The suit claims Micah Johnson shot at officers because he was incited by the defendants' anti-police rhetoric.  They have convinced their supporters "that there is a civil war between blacks and law enforcement, thereby calling for immediate violence and severe bodily injury or death," the suit says.
 
The suit cites a statement from then-police Chief David Brown who said that Johnson wanted to kill white people, especially white officers.
The suit does not name the Next Generation Action Network, which organized the July 7 rally. Black Lives Matter does not have a local chapter.
Dominique Alexander, leader of the Next Generation Action Network, said he does not think a lawsuit will solve underlying issues in the community. 
"The main thing is communication," he said. "The frustration that leads to the anger in these communities. ... All of us, whether we say that we line ourselves up with Back the Blue, Black Lives Matter, All Lives Matter, whatever it is, we should be standing together to address this issue."
Patrick Zamarripa, a 32-year-old Navy veteran who graduated from Paschal High School in Fort Worth, left behind both parents, a girlfriend and two children. He served three tours of duty in Iraq. 
His father, who could not be reached Monday night, is being represented by Larry Klayman, the founder of Judicial Watch and Freedom Watch. 
Klayman filed a suit against Hillary Clinton this year on behalf of two men killed in Benghazi in 2012, the Fort Worth Star-Telegram reported. 
In September, a Dallas police sergeant filed a federal lawsuit against Black Lives Matter, blaming it for race riots and violence against officers. 
The suit, filed by Sgt. Demetrick Pennie, the president of the Dallas Fallen Officer Foundation, named some of the same defendants including Louis Farrahkan and George Soros.
McClatchy-Tribune News Service