American LEOs try to keep NY cop killer behind bars
For the rest of his days on earth, whatever sunlight Anthony Blanks is allowed to see should cast the shadows of bars across his face
---
On October 12, 1976, Officer Arthur DeMatte of the Larchmont (N.Y.) Police Department — a 46-year-old cop with 20 years on at the department — encountered a transient named Anthony Curtis Blanks, a 23-year-old Missouri man who had been spotted walking erratically along the railroad tracks of the Metro North Commuter Line. According to reports, the engineer of a train bound for New Haven (Conn.) had observed Blanks walking dangerously close to the rails, and out of concern for the man's safety, had alerted the New Rochelle PD. The call was subsequently forwarded to Larchmont.
Patrolman Arthur DeMatte was dispatched to assist the transient man out of harm's way. During DeMatte's attempt to remove Blanks from the tracks, a struggle began. At some point, the violator gained control of DeMatte's service weapon. Blanks fired three times, striking DeMatte in the chest and arm, then fled the scene in DeMatte's squad car.
Anthony Blanks murdered Patrolman Arthur DeMatte.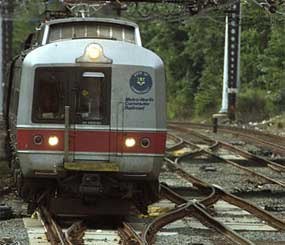 Justice Must Be Served
Late last night I received an email from a Police1 Member in Kansas notifying me — as you surely have already concluded — that Blanks is up for parole. A hearing for Blanks (a.k.a. New York State Inmate #78A0538) has been set for Tuesday, September 13, 2011.
It is my firm belief that individuals who take the life of a police officer should serve the maximum sentence received — not the minimum — without the possibility of parole. Upon his conviction, Blanks was handed to 25-to-life sentence. In New York, however, offenders who have served the minimum term are eligible to request a parole hearing every other year.
Blanks took a father from his four young children and a husband from his wife. Blanks took a man dedicated to serving the citizens of Larchmont. Blanks took a hero. Blanks should remain in prison where he can pose no threat to police officers or the citizens they protect.
For the rest of his days on earth, whatever sunlight Anthony Blanks is allowed to see should cast the shadows of bars across his face.
Longtime readers of this space already know what to do when they see me write on this subject. For those of you who are relatively new to the program, here's how it generally works. You've got three basic options for voicing your opinion to the parole board. You can...
• Post a petition at roll call and send it to the parole board in question — this is generally the most successful tactic because you can write just one letter and collect dozens, if not even hundreds, of signatures from your PD
• Send a personal letter to that same address — these work really well too, and give you the freedom to say exactly what you want in the language of your choosing
• Post your name, PD, and thoughts on this issue in the comments field below, and I will compile and send those (en masse via overnight mail) to the appropriate person at the Dept. of Corrections for distribution to the members of the parole board
The parole board is accepting online responses for this hearing. Visit the parole board's website to submit your response online or send a "snail mail" letter via USPS to the address below (however, given the obvious time constraints on this one, perhaps it would be best for you to use the online form).
New York State Division of Parole
Ref: NYS Inmate #78A0538
97 Central Ave
Albany, NY 12206
We Stand With Larchmont PD
According to ODMP, Officer Arthur DeMatte is the only LEO in the history of the Larchmont Police Department — an agency that even today has a roster of just 25 officers — to be feloniously killed in the line of duty.
In 2006, on the 30-year anniversary of this incident, Officer DeMatte's widow, Alice Connell, and the four children this hero left behind were joined by an estimated 2,000 people — from retired officers who served with him to ordinary citizens who were just teenagers when the event shook the quiet suburb just north of Manhattan.
Since I began doing these campaigns back in late 2009, Police1 members have helped in the successful prevention of a handful of parole requests made by cop killers across the nation. Let's show DeMatte's friends, family, fellow LEOs, and the entire village of Larchmont that from coast to coast they have support from Police1 Members.
Let's go get 'em.