Autism FYI offers free training, app and more to law enforcement
The app includes de-escalation techniques and five key strategies for dealing with someone having "a meltdown"
---
This article is taken from the March 2019 issue of eTechBeat, published by the Justice Technology Information Center, a component of the National Law Enforcement and Corrections Technology Center System, a program of the National Institute of Justice, (800) 248-2742.
By Becky Lewis
TechBeat Magazine
The caller had told dispatch about a man who had been wandering around her neighborhood for hours, not responding to anyone who spoke to him, seemingly disoriented. He didn't answer the officers who responded to the call either. However, because they had just completed online Autism Spectrum Disorder training from Autism FYI, they recognized the symbol on his bracelet and knew why he didn't answer, and how they could get the resources they needed to help them help him.
The online training and the easily recognizable symbol are just part of the services offered to first responders by Autism FYI and its Immediate Recognition Increase Safety (IRIS) program. A nonprofit organization started in 2014 by the parents of two adult sons on the autism spectrum, Autism FYI developed IRIS to promote autism awareness among first responders in addition to other services it offers.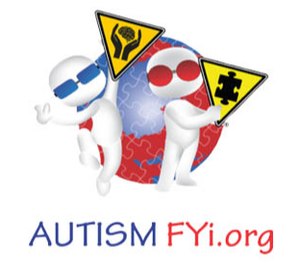 Parents or guardians of individuals on the autism spectrum can register them for free through IRIS, and at that time, IRIS notifies first responders in the individual's community about the registration. Participants receive a unique ID number, an ID card and a bracelet marked with the organization's recognition symbol, as well as a PDF file of the symbol so they can make copies to attach to backpacks, jackets and so on. The bracelet also uncoils into a USB that can connect to a computer and provide a direct link to the individual's information. However, if linking to a computer is not feasible, officers can also call the IRIS toll-free number (printed on the bracelet and the ID card) to receive help in reaching the individual's emergency contact and in providing an appropriate response.
Autism FYI co-founder Joyce Benjamin says she and her husband were moved to start the organization after reading news accounts of an encounter between law enforcement and a young man with autism that did not go well. In addition to IRIS and other resources offered on the organization's website, Autism FYI provides a free roll-call training module through a training site called FirstForward.
"The training can be taken by an officer on their own, or an instructor could make it required training for an agency. In the latter case, there's an option to go back and make sure they actually took the training," Benjamin says. In addition, Autism FYI offers basic information and resources for individuals here.
"Even if officers take the training, if they're not exposed to individuals with autism on a frequent basis, they may forget, so we've created a free app for both iPhone and Android," she says. "It gives them tips for immediate use and not only provides characteristics of autism, it also provides assistance with the characteristics of other neurological disorders, such as Huntington's Disease or stroke."
The app also includes de-escalation techniques and five key strategies for dealing with someone having "a meltdown." Autism FYI encourages its use by first responders and by teachers and school administrators.
On a limited regional basis (near its headquarters in suburban Washington, D.C.), Autism FYI also provides train-the-trainer programming with the assistance of a retired police sergeant. The organization has reached out to local police departments, businesses and restaurants through the training, which also touches on dementia and other cognitive and communicative disorders. The expanded training includes the addition of a second symbol to indicate that a person has some type of neurological disorder. Both symbols are available in a variety of formats, including window decals and seatbelt covers, for a nominal fee. Restaurants that provide training for their staff members can receive a special window decal indicating they are an autism-friendly business.
"This is not [running a nonprofit] something we originally set out to do, but the need is really there. We have more people with autism integrating into the community and we need the community to be able to support them," Benjamin says. "We go to conferences and I'm surprised at how many officers have no training at all. To their credit, they do understand that it's an issue and they need training, and our hope is that we can reach some of them through the online resources. And we do hope to be able to grow and eventually expand our in-person training as well."
To find out more about Autism FYI, click here.