Baltimore youth go to cop camp
Students engage in lessons about everything from the recent violence and unrest in the city to bike safety
---
By Erica L. Green
The Baltimore Sun
BALTIMORE — Cpl. Ronnie McCain opened the floor for questions, and on cue, a wave of arms rose into the air.
He took a step back in surprise, his smile broadening at the group of 25 middle-school girls in the small classroom at Vanguard Collegiate Middle School — where they had spent three weeks of their summer at the Girls Expecting More Success (GEMS) school police camp.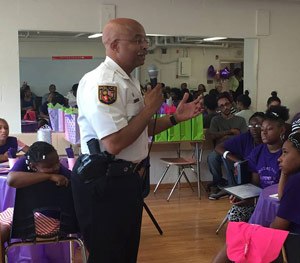 It's one of two camps being run by the Baltimore school police department this summer. Another camp, the Gang Resistance Education and Training (GREAT) program, ended Friday at Charles Carroll Barrister Elementary School.
The camps are bringing more than 50 youths and law enforcement together as the city debates whether keeping officers in schools is beneficial, and the nation is calling for public safety reform as the next civil rights movement.
At the camps, students engaged in lessons about everything from the recent violence and unrest in the city to bike safety.
For many of the girls in GEMS, a casual conversation led by police officers was uncharted and uncomfortable territory.
With this in mind, McCain eagerly dove in, knocking down misperceptions one hand at a time.
"Do some people become officers to drive fast and turn on the siren just to go through red lights?" the questions started. No, he said, sometimes police turn their sirens off so they don't alert offenders they're coming.
"Do you ever feel like the community doesn't appreciate you?" another student asked. It doesn't matter, he said. "If you say you don't like me one minute, and someone does something to you the next, you'd expect me to help you," he said.
"How does it feel when you first had a gun — did you feel like a big man?" another student asked. No, he said, he first felt like a man when at 13 years old, his father, a police officer, told him he was one.
"What could police have done better during the Freddie Gray stuff?" another asked. Police officers are not psychic, he responded, and they didn't expect their community to start destroying the city after Gray died of injuries suffered in police custody.
And finally, asked seventh-grader Logan Deshazo: "What's your favorite part of your job?"
"This," McCain answered.
The question culminated the lesson on community policing, one that was chosen carefully by school Police Officer Betty Covington, who started the GEMS program in 2007.
The camp session was one example of how city and public safety leaders are trying to reach, teach and connect with children in a post-Freddie Gray Baltimore.
Changing the experience that the city's youths have with police has emerged as a priority in the months after the city fell into looting and rioting — which started when city students had a violent standoff with police at Mondawmin Mall. It came hours after the funeral for Gray, a 25-year-old who died in police custody.
Some students and educators say the standoff was a spillover of emotions, built up from a longstanding tension and misunderstanding between students and police.
These tensions have been central in debates about whether school police officers who are stationed in schools should be armed during the school day.
This month, in several public forums held by the school system, the community has argued about whether armed officers create a safer or more hostile environment. The school district will recommend a new deployment strategy for school police in August.
Logan, who will attend Bethlehem Christian Day School next year, said the lesson on community policing led by McCain changed some of her feelings.
"I kind of didn't like police officers from the Freddie Gray situations and my family situations, and now that we've talked about it, I feel that they are protecting us, they're not trying to harm us," she said.
Olivia Holden, an eighth-grader who will attend Greater Grace Christian Academy next year, was also surprised that her feelings about police officers began to change. She said she had many biases against police, and harsher feelings toward white officers who she felt were more arrogant than black ones.
Olivia said she learned that in order to build safe communities, "it takes more than just the police, because they can't help some things."
At Charles Carroll Barrister, a character-building lesson titled "Staying cool when the heat is on," helped Vernon Thomas, a sixth-grader at James McHenry Elementary/Middle School, understand what he should do if he becomes angry, whether it was with his peers in the school cafeteria or an adult in the neighborhood.
Among the things he and 30 students learned from School Police Officer Danaena White was that if they are breathing rapidly or balling up their fists, those are signals that they should control their tempers.
"I have anger issues, and I'm trying to control them, that's why I came to this camp," Vernon said. "I don't like when people yell at me and when people put their hands on me. But now I learned I have to count to 10."
White helped write the state curriculum for cultural competency training for police officers, one of the many ways that city school Police Chief Marshall T. Goodwin says he encourages his officers to stay up on the challenges students are facing.
Covington approached Goodwin in 2007, his first year on the job, and asked to start the GEMS camp, a program that specifically targets girls.
With his blessing, she picked 30 of the most troubled girls at Digital Harbor High School that year, including gang members, and recruited them to the program. She knew she was on to something when 90 percent of them ended up graduating from high school.
She was inspired to start GEMS from her days as a rookie in 1998 at Southern High School, now Digital Harbor High. When she graduated from the police academy, she felt unprepared for the challenges of working in a school. She said she felt like a bystander as students were murdered or dropped out.
"We could see the problem, but in my rookie year, I didn't have a solution," Covington recalled. "I was just like: We got to do better. We're losing kids."
Covington has been running the mentoring program out of Digital ever since and has taken iterations of a female mentoring program on the road to schools across the city.
She was able to put on a summer camp this year with the help of a grant from Mayor Stephanie Rawlings-Blake, who has also been a guest speaker at the girls group.
The program has won numerous awards and citations from government officials, and Covington secured nonprofit status for it this year.
"I'm telling you: It's easier for me to arrest these kids in my uniform than to work with them out of it," Covington said. "But I'm not changing lives this way."
When asked what they were most surprised to learn at the girls camp, students pointed to Covington bedecked in her purple GEMS T-shirt, which they were also wearing.
"I didn't know she was a police until she just said so, because she's not in her suit," said Antnia Moore, a seventh-grader at Vanguard.
"And she was nice," Logan chimed in.
"And she was respectful," Olivia concluded.

Copyright 2015 The Baltimore Sun