NYC Mayor-elect Eric Adams: Why we need stop and frisk policing
According to Adams, the question is how, not if, stop and frisk should be used
---
By Suzie Ziegler 
NEW YORK — In a recent opinion piece for the New York Daily News, Mayor Eric Adams defended the policing procedure known as stop and frisk – when done right, he says. The piece was published Saturday, just days after two NYPD officers were shot while questioning a suspect. Adams upheld the incident as an example of why stop and frisk is necessary. 
"Yet there are some in our city who would say these officers should never have confronted [the suspect], that he never should have been stopped and questioned," Adams wrote.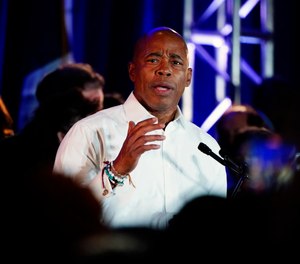 Adams, a former NYPD cop himself, was criticized for supporting the policy during his run for mayor earlier this year, according to the Daily News. Adams defended his position, saying that the policy could reduce crime when used appropriately. 
"I was continually pressed on my position on the policing procedure known as 'stop and frisk' – which is actually in law enforcement known as 'stop, question and frisk' – and why I believed that, if used properly, it could reduce crime without infringing on personal liberties and human rights," Adams wrote in the op-ed. 
According to Adams, the question is about how, not if, stop and frisk should be implemented. 
"The question should not be whether or not police are allowed to confront suspects; it should be about how we train them," he continued. "The question should not be whether we have police; it should be how we use them."
Adams maintained that it's an essential tool when done right.  
"As American courts have affirmed over many years, stop, question and frisk is a perfectly legal, appropriate and constitutional tool, when used smartly," he said. "As a former officer and lifelong New Yorker, I also know personally how dangerous our streets can be."