Sacramento police chief unveils data-driven strategy to tackle rising violence
The first step was to identify crime "hot spots"
---
By Rosalio Ahumada
The Sacramento Bee
SACRAMENTO, Calif. — Sacramento Police Chief Kathy Lester on Tuesday unveiled her strategy to combat the rising trend of gun violence. It's a plan designed to rely on data analysis to focus enforcement operations and to use partnerships with community groups to lead intervention efforts and work on the root causes of crime.
The city is still reeling from the April 3 brazen gang shootout on K and 10th streets in downtown Sacramento that killed six people and wounded 12 others. The Sacramento City Council asked the police chief to present her strategy as the summer months begin and the risk of violence among youths increases.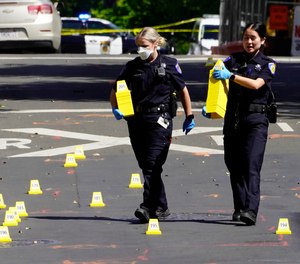 Lester said the first step of her enforcement plan was to update how her department looks at data in relation to where violent crime is occurring and who specifically is perpetrating that crime. Through analyzing the crime data and gathering intelligence, the department has identified "hot spots" to help police officers determine where their focus should be.
"We identified that most violent crime occurs in about seven square-miles of our city," Lester told council members on Tuesday. "And it's concentrating in three geographic areas. These are Del Paso Heights, Oak Park and Meadowview and Valley Hi."
For instance, Sacramento had 945 gun crimes reported in 2021 throughout the city. But 423 of those gun crimes occurred in Del Paso Heights, Oak Park and Meadowview and Valley Hi, Lester said. About 25% of assaults and 26% of homicides also occurred in those disadvantaged neighborhoods with high poverty rates
"So our data has shown to be consistent with a large amount of research that is also shown the majority of violence occurs in small geographic areas and is committed by a small number of offenders," the police chief said.
Violent crime "hot spots"
The average number of assaults per square-mile in Sacramento is about 29, Lester said, but it's 104.6 or 260% higher in the identified "hot spots." She said the average number of homicides per square-mile in the city is 0.5, but it's 2.0 or about 300% higher in these neighborhoods.
Lester, who became Sacramento's new police chief in January, wants to implement a "focused deterrence" to change the long-term behavior of high-risk offenders through a combination of community interventions, providing alternatives to violence and enforcement. The strategy involves law enforcement, social services and community efforts.
The Police Department is using data to identify people with a history of gun crimes and those actively involved in gun-related criminal activity. Lester said officers are making "proactive contacts" to ensure compliance with the law and to conduct an assessment of needs and refer them to help from community-based organizations. Those arrested for gun-related offenses will be referred to services, too.
[RELATED: The future of law enforcement is data driven and mobile (eBook)]
The police chief said she will be meeting with her command staff monthly to review the latest violent crime statistics, making adjustments to enforcement where needed. And she said they will be closely monitoring complaints and misconduct accusations with the Office of Public Safety Accountability to mitigate any negative impacts of the enforcement strategy.
"Focus deterrence is really a proactive model where, with the help of our community partners, we can do more than just enforce," Lester said. "The police department can be active partners in engagement, prevention and interruption."
Domestic violence leads to mass shootings
The police chief said her officers will make sure to conduct thorough follow-up investigations on gun-related cases and domestic violence cases. In her presentation to the city council, Lester referenced a report by the Brady Center to Prevent Gun Violence that found 60% of mass shootings from 2014 through 2019 in the United States were either domestic violence attacks or perpetrated by those with a history of domestic violence.
In Sacramento, domestic violence arrests increased over the past three years: 2,844 in 2019, 3,144 in 2020 and 3,583 in 2021, according to the Police Department. So far this year, the city has had 1,565 domestic violence arrests.
"Like the tragic K Street shooting, mass shootings are often committed by those with a record of domestic violence," Lester said.
One of the three arrested suspects in the gang-related K Street mass shooing in April was previously convicted for choking and stomping on the neck of the mother of his child for refusing to work as a prostitute in July 2016, according to court records.
There is also the Feb. 28 shooting at The Church in Arden Arcade, where a father shot and killed his three daughters, ages 13, 10 and 9, during a supervised visit. The gunman also killed a family friend tasked with supervising the visit with his daughters at the church.
The police chief said her strategy relies on partnerships with community-based organizations that will be leading intervention efforts in neighborhoods impacted by crime and poverty.
"We know that we can help prevent future crime by supporting our youth now and with the work of our community partners who can help people find alternatives to criminal lifestyle," Lester said.
Police Department oversight of community groups
The police chief laid out her plan to reduce gun violence during a three-hour special city council meeting held Tuesday morning. What generated the most discussion and criticism was City Manager Howard Chan's decision to move the Office Violence Prevention and the community-based organizations it funds under the oversight of the Lester and the Police Department.
Councilwoman Katie Valenzuela, who represents Old Sacramento, downtown and midtown, called Lester's anti-gun violence strategy a "thorough vision" she doesn't disagree with. But she also said a "trust gap" remains between the community and the Police Department, and she's concerned having police oversee community groups will deter involvement from the public.
"I'm not sure that the Police Department is the right home for this work," Valenzuela said during Tuesday's meeting. "And I am worried that housing this within PD kind of shuts us off from some of that collaboration, some of those new ideas and those different tactics."
And there was criticism over the decision to only fund eight community groups to do the intervention work over the next year, leaving out some longstanding organizations in Sacramento.
Lester announced Impact Sac; Voice of the Youth; the Neighborhood Wellness Foundation; the Rose Family Creative Empowerment Center; Self Awareness and Recovery; City of Refuge Sacramento; Brother 2 Brother; and Helping Our People Eat are the community groups who have received one-time funding to work in partnership with the city and the Police Department.
The police chief said they've chosen these groups that "have a history of success and experience building partnerships." She said they also have "a proven track record to do this type of work."
Sutter Health has agreed to oversee fiscal and reporting management of these community groups, Lester said, and the Sacramento County Office of Education will evaluate these groups in conjunction with the University of San Diego that will be conducting community outreach to determine the needs of residents in these neighborhoods.
Part of the police chief's strategy is to receive metric reports on each community group's successes and challenges to make adjustments. The city manager said other groups can apply for funding for the next fiscal year once they design a request for proposals process within in the next six months.
"We just don't have enough funding to spread around for all the providers that work in our community," Chan said. "If we did so, we would not be effective. The funding would be so thin, there would be no coordination between them."
Community groups not funded
Pastor Les Simmons said it was "alarming" that the police chief's strategy doesn't include the work currently being done to respond to crisis by groups such as Healing the Hood, Black Child Legacy Campaign and Sierra Health Foundation. He said there's a lack of city investment in these groups to expand their abilities to the "scale of the crisis."
"We've been partners in the past. I don't know why we're not partners in the present," Simmons said during the public comment portion of Tuesday's meeting.
James Willock is a community intervention worker with Mutual Assistance Network and a crisis responder with Healing the Hood. He said the city should fund these groups; "not take them over" and ruin the credibility with the neighborhood that has led to their success.
"Our neighborhoods are bleeding out," Willock said. "We are and have been wading in a continual, preventable violence without any long-term solution."
Mayor Darrell Steinberg said moving violence prevention under the new police chief, for now, is a good idea. He said Lester has a good connection with the community and has said that the city can't only focus on law enforcement in responding to gun violence.
Steinberg said previous management of violence prevention before was "scatter shot," and the Police Department has the infrastructure to manage this in a more effective way. But the test will be whether the community feels its genuinely leading this effort and are true partners in devising that strategy.
Councilman Jeff Harris, who represents East Sacramento and South Natomas, said these community-based groups will continue to do their work, but now there will be a focus on performance metrics that will lead to sustainable funding.
"The Police Department is not going to commandeer their programs or run them for them. They are just going to be better coordinated," Harris said "Obviously, when you have limited resources, you have to use them very wisely."
©2022 The Sacramento Bee. Visit sacbee.com. Distributed by Tribune Content Agency, LLC.
McClatchy-Tribune News Service