The reserve officer's role in law enforcement
Reserve police officers are 'extreme volunteers' whose contributions to their communities are becoming increasingly visible
---
Article updated August 8, 2017.
If a person wanted to start a heated discussion in the comments field of a Police1 column – or in email responses to a survey question – they'd have a handful of sure-fire topics from which they might choose.
One such topic, for example, is that of reserve police officers.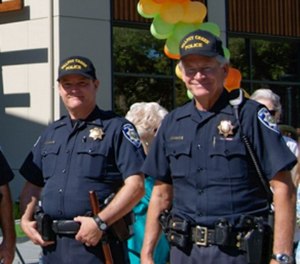 I've intended for several months to do a column on reserve officers, so in the Career Newsletter I inquired with Police1 Members what the prevailing thinking among full-time sworn LEOs is on this subset of the police ranks.
Let's begin the discussion on reserve officers by reviewing a sampling of what folks said in reply to that query last month.
Police1 Members Speak Out
Police1 Member Joe Vargas recently retired from Anaheim (Calif.) Police Department and in an email to me late last month indicated that reserves have been a part of that agency since he started in the late 1970s.
"When I first started, it was strictly a voluntary position with only meals, uniform, and equipment provided," wrote Vargas. "Beginning in the 80s the position became paid and when I left it was at about $19.00 an hour. Generally, reserves were made up of members of the community seeking to serve and also some seeking to get their foot in the door and get hired. With the downturn in the economy all reserves were restricted in hours and many were laid off. The position has never been used to supplant officer positions and care was taken to ensure that did not occur. Economic realities being what they are, I can see where departments would take a second look at expanding their reserve programs. What other choices do they have? Citizens are reluctant to vote in additional taxation and there is only so much money to go around."
Terry Scherer, Chief of Police for the LaPorte (Ind.) Police Department said in his email to me, "I believe that reserve officers are useful and valuable to help out police departments. They should never, however, replace full time positions in my opinion. I am very happy with our reserves as they step in and help us when we need the help. The program has also been beneficial in being a pool from which we can recruit full-time officers."
Lt. Tony Flowers of the Marion (S.C.) Police Department said further, "Our Department consists of 25 full-time sworn officers. As of this date we are currently down to 20 full-time sworn officers. Percentage wise, that comes to 80 percent. We are slotted for four officers per shift. We run four shifts but currently have only three officers on three shifts and one officer on the fourth. That definitely puts us in a bind as officers are steadily having to work overtime.
"We currently have one reserve officer who probably works more hours for free than 50 percent of the full time officers. He would love to come aboard full time but can't afford to take a $10,000 to $15,000 pay cut to leave his current job to work as a police officer. He is very motivated and loves helping us out. He is available at a moments notice and never complains about any task he is asked to perform. I feel that the reserve officer program is a definite plus, especially to small departments, and it helps us out tremendously."
"We have recently hired additional reserve officers to supplement our full-time personnel," wrote Joseph P. Morris, Chief of Police City of Florence (Colo.) Police Department. "In fact some officers that have left the agency for other law enforcement careers, have remained active as Reserves with the department and their knowledge and expertise has been a valuable asset to the community. The Reserve program has become a first step entry level, into our recruiting process to add full-time officers to the department. Successful candidates selected from the reserve program, are ready to move on to the full-time field training program when hired, having agency experience and training."
Officer Ben Gilman of the Alexandria (Ind.) Police Department said in an email to me that he himself is a reserve officer. "The role that reserves serve is vital to our departments as well as community. We keep all of the annual training that the Full Time Officers keep and work side by side with them daily performing the same job functions. Our Reserve Academy was very strict with hands on training that lasted months not including our ride along FTO Program before being released to patrol alone. Our Reserves work many hours saving our department money in overtime and staffing costs.
"While our department may only consist of 13 full time Patrolman cost effectiveness is key to the survival of any department. Our Chief and assistant Chief are very supportive and help with any needs we have, as well as all of the Officers on staff. I don't have to tell anyone how expensive all the gear we wear is but at least our department has helped out with radios and even vests. All in all I suppose what I am getting at is the Reserve Officers in Alexandria perform well and save the city money at the same time, covering vacations and off time. I am proud to say that I am a police officer in my town and I'm sure where ever you are you can say the same. Reserve or full-time, we still fight the same battles."
"The reserve program is great for departments to fall back on," said Police1 Member Gordon Corey in his email to me. "Even though most reserves are limited commission, if you have full-commissioned officers who are willing to still volunteer as reserves, that gives departments the opportunity to utilize these officers to fulfill call-ins and vacations from full-time officers. With this option, departments won't have to worry they will make the wrong decision. With reserves who are just reserves and have full time jobs other than law enforcement jobs only make decisions based on what they learn in the reserve police academy which is far less than what a full time officer is taught in the police academy."
Finally, there was this email, from another Police1 Member who said, "I believe the 'part time' system of policing is absolutely ridiculous. The job has changed since walking down the street and spinning your baton. We now encounter more diverse and complicated situations, where we are expected to wear a multitude of hats, and do it perfectly the first time. We contend with more anti-police groups, 24/7 video taping, and more charging and law suit filings then ever before. As such, to do this job without a full salary and full benefits is insane. If every 'part time' or reserve officer quit, they'd HAVE to hire full timers. Although relocating is difficult and not always feasible, those laid off may have the option of heading to the larger cities who always hire."
who becomes a reserve police officer?
Looking at reserves from as objective a perspective as one can possibly have, I tend to see reserve officers falling into four basic subsets:
Ordinary citizens – "extreme volunteers" – who want to contribute to the betterment of the society in which they live.
Full-time LEOs who have been laid off due to shrinking full-time ranks – or whole departments being consolidated with neighboring agencies or closed down altogether – who are trying to get hired on with another PD.
Individuals who are contemplating a career change into law enforcement from their 'day jobs' as airline pilots, doctors, attorneys, and business managers.
Retired police officers from up and down the ranks who want to stay in law enforcement simply for their sheer love of the job.
Reserve police officers are 'extreme volunteers' whose contributions to their communities are becoming increasingly visible.
While the requirements and duties vary significantly from one department to the next – some have full powers of operation similar to a regular police official, others have very limited duties such as office work, community relations, traffic control, and searching for missing persons.
Some reserves are entirely seasonal – it's common in beachside locations that have a huge increase in population in the summer months to hire a reserve police officer team on a seasonal basis to help with law enforcement. Reserve officers can serve at things such as state fairs, parades and other large events.
Regardless of their role, at agencies where reserves already exist, they're not likely to disappear from the department's plans.
At agencies that don't now have reserve programs, it's about a 50-50 chance reserves may one day become part of the mix (read: they might, and then again, they might not). Where do you stand? Add your thoughts below.