N.H. police department receives grant to add K-9 unit
K-9 Crue has already become popular in town after only one week on the job, Danville Police say
---
By Angelina Berube
The Eagle-Tribune, North Andover, Mass.
DANVILLE, N.H. — A new four-legged officer has joined the ranks at Danville Police and is already a popular fixture in town with a name to match.
Crue, an 18-month-old German shepherd named after 1980s rockers Motley Crue, is the department's newest member thanks to a grant to bring a K-9 unit to the town's police.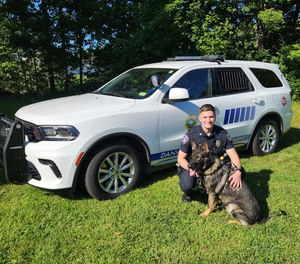 The $32,000 grant covered the purchase of the canine along with cruiser modifications for the dog.
He'll patrol in style in one of Danville's Dodge Durango SUVs alongside Officer Padraig "Paddy" Capsalis, his handler. The SUV was adapted for him, complete with a kennel and cooling system in the back, a water bowl and special back door.
Crue has only joined Capsalis for less than a week, but knows the vehicle is for him.
"He is very protective of his cruiser," Capsalis said with a laugh.
Capsalis said he wanted to pursue this program for a while. He worked with Hampstead's K-9 unit when he served as a Sandown officer. Capsalis brought the idea to police Chief Wade Parsons when he joined Danville Police.
"Chief Parsons has been on board with it from the start," he said.
Hampstead's K-9 Officer Gian Wilson helped Capsalis through the process and pointed him to the Stanton Foundation, which ultimately funded the K-9 unit's creation. The grant was approved with the recommendation of the chief and Danville Board of Selectmen.
Crue's name is ironic. It's a play on Motley Crue's lifestyle and the dog's future role. He will become a valuable asset to the department and surrounding communities serving as a narcotics detection dog while also tracking suspects and missing persons.
Small towns are not immune to drug problems, Capsalis said. Even small towns like Danville is susceptible to overdoses and drug transportation. The high-traffic Route 111 runs through town.
"In New Hampshire, we are in the middle of an epidemic with methamphetamine and fentanyl even in small towns," Capsalis said. "Crue will be a huge help keeping drugs off the street."
"Criminals won't be able to outsmart his nose," he added.
The two will head to the Boston Police K-9 Academy next week and embark on a 15-week training certification course.
"I can't wait to get out of the Academy and get out on the roads with him," Capsalis said.
For now, Crue gets a taste of his daily duties until he's officially an officer.
"He loves riding with me in the cruiser," Capsalis said. "He's my little buddy."
Crue even knows it's time to hop in the cruiser when Capsalis picks him up dressed for work versus civilian clothes.
"He gets excited to see me in uniform," Capsalis said. "I get to come to work with my best friend every day now."
There's been a great response to Crue's arrival in Danville. The dog is a social butterfly, his handler said.
"He a ball of energy, but he loves everyone," Capsalis said.
After academy graduation, Capsalis said he looks to get Crue a ballistic vest.
He sees this as being the toughest step in the program as the vest alone costs $3,400. He plans to apply for more grants to help fund it and try some community outreach.
___
(c)2023 The Eagle-Tribune (North Andover, Mass.)
Visit The Eagle-Tribune (North Andover, Mass.) at www.eagletribune.com
Distributed by Tribune Content Agency, LLC.
McClatchy-Tribune News Service