1 Fla. deputy released, 1 still hospitalized after being intentionally hit by car
"That was the scariest moment of my life," Deputy Manuel Santos said
---
By Jack Prator
Tampa Bay Times
TAMPA, Fla.  — Hillsborough sheriff's Deputy Manuel "Manny" Santos was released from Tampa General Hospital on Saturday after being treated for injuries sustained when a Brandon man struck him and another deputy with a car.
Santos, 31, was met with applause and hugs from fellow deputies as hospital staff wheeled him out of the hospital's front entrance.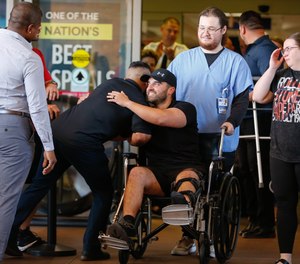 "The chances of me being here are pretty slim," he told reporters.
Santos choked up recounting the incident as his wife, Chelsea, and Sheriff Chad Chronister stood by his wheelchair. He said it wasn't until later that his colleagues told him he pushed another deputy out of the way of the speeding vehicle, possibly saving his life.
"That was the scariest moment of my life," Santos said.
Santos and Cpl. Carlos Brito, 39, were seriously injured Thursday when Ralph Bouzy, 28, hit them with a car after they were called to his Brandon home, according to the sheriff's office.
Chronister said Santos had a bilateral break in his leg with extensive ligament damage.
Chronister said Brito, who is still at Tampa General Hospital, "faces a much more difficult road." He has undergone a second surgery and doctors are "cautiously optimistic" that they were able to salvage enough viable muscle and tissue to avoid amputation, Chronister said.
The sheriff said he was proud of how the deputies handled the incident and that he was grateful no one was killed.
"We thought we were planning a funeral," he said.
The incident began at 7:44 a.m., when Bouzy's mother called 911 and said her son was acting violent and irrational at their home in the Heather Lakes subdivision, Chronister said Thursday at a news conference at the scene. Fearing for her safety, she asked that deputies be sent to help her.
When Santos and Brito arrived outside the home at 1102 Dexwell Court, they found Bouzy in the driver's seat of a parked Nissan Altima. Chronister said the deputies tried to deescalate the situation, but Bouzy ignored them and drove away. Bouzy returned and nearly hit two additional deputies who arrived at the scene, then sped up and aimed his car at Santos and Brito, who stood next to a sheriff's SUV, Chronister said.
Brito was pinned between the Nissan and sheriff's SUV, and Santos also suffered severe leg injuries. Both deputies were rushed to Tampa General Hospital.
A judge on Friday ordered Bouzy to remain in custody without bond until a hearing set for Wednesday, when prosecutors will argue that Bouzy should remain in jail until the case is resolved.
Chronister said Bouzy attacked officers again Friday night after he was released from the hospital and jailed.
"As the deputies restrained just one arm and allow him some dignity and wipe himself after using the restroom facilities, he took advantage of that opportunity and began striking deputies," he said.
Santos said he hopes to eventually get back to work alongside Brito.
"My hope is he keeps his body the way it is and comes out walking and we get back to the next shift," Santos said.
—
©2023 Tampa Bay Times. Visit tampabay.com.
Distributed by Tribune Content Agency, LLC.
McClatchy-Tribune News Service