3 members of 'Thin Blue Line' motorcycle club killed, 9 injured by DUI suspect
The group was riding in Texas when a vehicle crossed the center line and plowed into them
---
By Krista Torralva
San Antonio Express-News
KERR COUNTY, Texas — A retired police officer and two retired Army officers enjoying a motorcycle ride in the Hill Country were killed Saturday when an alleged drunken driver plowed into them.
Nine other motorcyclists were injured in the crash and were hospitalized in critical condition, authorities said.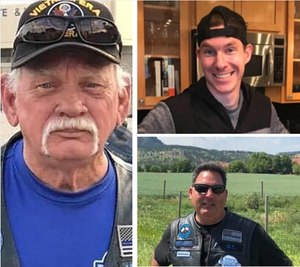 The victims were members of the Thin Blue Line Law Enforcement Motorcycle Club, an organization of active and retired law enforcement officers.
They were riding on Texas 16 south of Kerrville on Saturday afternoon when a vehicle crossed the center stripe and mowed down the motorcyclists, the Kerr County Sheriff's Office said.
Killed in the crash were Jerry Wayne Harbour of Houston, a retired Army lieutenant colonel and a retired pilot for Eastern Airlines; Joseph Paglia of Chicago, a retired police detective; and Michael White, also of Chicago, a police officer and retired Army officer.
Their names and backgrounds were provided by David Weed, a spokesman for the Thin Blue Line Foundation, a nonprofit that assists police officers and their families.
The driver of the vehicle, Ivan Robles, 28, was charged with three counts of intoxication manslaughter with a vehicle and six counts of intoxication assault.
Weed said the motorcycle club was in Bandera for its annual Thin Blue Line Foundation meeting, scheduled for Saturday afternoon.
That morning, Harbour, Paglia, White and the other riders visited the Lone Star Motorcycle Museum in Bandera County. They had arranged with the owner for an early visit, and a volunteer welcomed them before the museum's official opening at 10 a.m.
The volunteer, who asked not to be named, said they were "a great group of men and women." They stayed about an hour and took a group photo outside before leaving shortly after 11 a.m.
"This was a wonderful group of riders," the volunteer said. "A true tragedy."
Paglia told her they planned to drive to Medina for lunch at the Apple Store Bakery & Cafe.
Sgt. Orlando Gus Moreno of the Texas Department of Public Safety said the crash occurred around 12:10 p.m. Saturday.
Paglia was 48, and White was in his early 20s. Both had worked for the Niles Police Department in Illinois, northwest of Chicago. Paglia had recently retired. White was a community service officer for the department.
Harbour, 75, "was our elder statesman," Weed said.
Among those hospitalized was Niles police Sgt. Joseph Lazo, the department said.
"Please keep our department and its members in your prayers," the police department said in a social media post. "Tonight will be difficult for us all."
Linda Letarte of New Brunswick in Canada was among the first to mourn Harbour on social media. She and her husband, Daniel Raill, met Harbour about nine years ago, when he worked as a co-pilot and spent summers along the Restigouche River.
Harbour was the kind of person who remembered details of acquaintances' lives and who was much more eager to talk about his friends' successes than his own, Letarte said.
And he would do almost anything for his friends.
Years after his wife, Mary, died, Harbour gave Letarte some of her collection of rare Elvis Presley albums because they were both fans. He invited Raill to the Lone Star Rally in Galveston, where he introduced him to dozens of friends and other members of the Thin Blue Line club. He had planned to rent a house in Galveston so Letarte's entire family could attend the Lone Star Rally this year.
"He made you pause, because everything that he did, there was intention with an outline of his heart around it," Letarte said. "He was somebody that when you started to speak with him, he really took an interest in you and wanted to hear your story, genuinely interested in your feelings."
Paglia was president of the Thin Blue Line club's Chicago chapter. He "enjoyed traveling with his RV and motorcycle," according to a Facebook post by Chicago Code Blue, a group that supports police officers.
The post described Paglia as "a volunteer for social causes and a dear friend to many," adding: "He's made a lot of friends within the brotherhood."
White was secretary of the motorcycle club's Chicago chapter.
The Thin Blue Line club was founded in 2009, according to its website. The group's members "share the love of American-made motorcycles, the wind in our faces and the brotherhood of like-minded motorcyclists," according to the club's Facebook page.
"As a fraternal organization, we strive to support one another, law enforcement professionals and our community. Our members reflect a positive image for our profession and our club. We are the Thin Blue Line."
Members of law enforcement motorcycle groups are in mourning even if they didn't know Harbour, Paglia or White, and they are "dreading" to find out who is hospitalized, said Milton Shoquist, a retired U.S. Drug Enforcement Administration agent who lives in Boerne and rides with the Reguladores LEMC.
"It's a brotherhood. Even if you're not in the same club, we all ride together," Shoquist said. "We love to fellowship with each other, and we love the freedom of riding motorcycles."
©2020 the San Antonio Express-News
McClatchy-Tribune News Service