Body cam shows officer performing CPR to save newborn
Officer William Eng raced up three flights of stairs to perform CPR on the unresponsive 29-day-old baby
---
Associated Press
SAVANNAH, Ga. — Savannah police are crediting an officer with saving the life of a choking newborn baby by racing to her apartment and then using chest compressions to restart the infant's breathing.
Dramatic video from an officer's body-worn camera shows the infant's desperate mother, Tina Adkins, holding her unresponsive 29-day-old baby on Friday. Savannah-Chatham police Officer William Eng raced up three flights of stairs to perform CPR.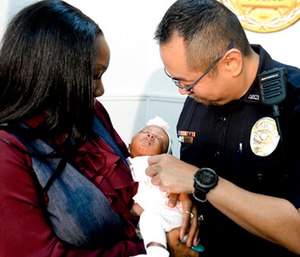 Eng finally saw Bella move, "and I heard a little cry," he told The Savannah Morning News .
"I stopped and I turned her to my face and saw her eyes open and she started moving," Eng said. "I was so relieved."
When Bella began choking, she turned beet red and also blue, her mother recalled in an interview with the Savannah newspaper.
"I just thank God for him," Adkins said of the officer. "Without him, she may not have been here today, so I thank God for him."
Eng did not hesitate to come to the family's aid, said his supervisor, Savannah-Chatham police Sgt. Phillip Collard.
"Because of his compassionate and quick response, he saved the life of this little girl," Collard said.
SCMPD Officer William Eng Saves Baby Bella in Savannah, Ga

On Friday night, officers were dispatched to a call of a 1-month-old who was not breathing. Although Officer Eng was not the one dispatched, he knew he was closer and headed that way. After running up 3 flights of stairs, he took the newborn into his arms and began compressions. After about a minute, he heard Bella cry. She was taken to a hospital for further treatment, and doctors said the officer's actions saved baby Bella's life. We could not be more proud of Officer Eng and his heroic response! Today the officer, mother and child had a heartfelt reunion at SCMPD Headquarters.

Posted by Savannah-Chatham Metropolitan Police Department on Monday, December 4, 2017
Copyright Associated Press. All rights reserved. This material may not be published, broadcast, rewritten, or redistributed.