Capitol Officer Eugene Goodman to throw first pitch at MLB game
This is the latest honor for Officer Goodman, who was seen facing down an angry mob in the U.S. Capitol on Jan. 6
---
By Suzie Ziegler 
WASHINGTON — Officer Eugene Goodman, who became a household name for his role in defending the U.S. Capitol on January 6, will throw out the first pitch at an upcoming Washington Nationals game. 
According to NPR, Goodman is expected to throw the ceremonial pitch at the home game on June 18 against the New York Mets.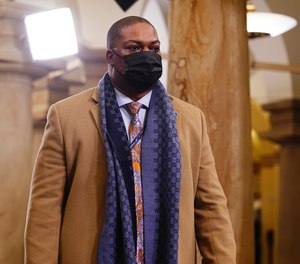 This is only the latest honor bestowed on Goodman, who is also tapped for a congressional gold medal and was the personal escort of Vice President Kamala Harris during the inauguration ceremony of President Joe Biden. 
Goodman gained fame after a viral video showed him facing down an angry mob inside the Capitol Building. A second video showed Goodman leading Sen. Mitt Romney to safety, away from rioters.