Deputy becomes first from South Carolina to receive U.S. Attorney General's award
U.S. Justice Department recognizes deputy's heroism and quick thinking
---
On the night of November 19, 2020, Richland County (South Carolina) Deputy Sarah Merriman was dispatched to a residence where a man had physically assaulted at least two people and pulled a shotgun. When the young deputy rolled up, she saw the man, out front, armed and agitated. 
According to a citation for one of Merriman's subsequent valor awards: "Merriman had to decide instantly whether to draw her weapon; recognizing the subject's state of mind, she chose to talk to him. She pleaded with him to drop the weapon – and once additional patrol deputies arrived and aimed their guns at him, she encouraged him to focus on talking to her. The suspect taunted Merriman for several minutes, yelling at her to pull her weapon and shoot him. Finally, Merriman was able to calm him down and he lowered the shotgun; she then took him into custody."
For her heroism and cool-headedness in de-escalating an extremely dangerous situation, Merriman was awarded the Richland County Sheriff's Department (RCSD) Medal of Valor in 2021. She was also named Deputy of the Year for 2020.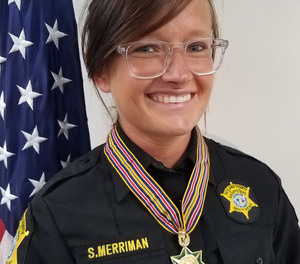 Last week, the United States Attorney General also joined the chorus of those praising Merriman for her actions. On Thursday, April 21, Merriman received the Attorney General's DISTINGUISHED SERVICE IN COMMUNITY POLICING award during ceremonies at the U.S. Attorney's Office for the District of South Carolina. As such, she became the first law enforcement officer from the Palmetto State to be so honored.
Awarded by Attorney General Merrick B. Garland and presented by U.S. Attorney (District of S.C.) Corey F. Ellis, the award was one of 18 presented to law enforcement officers from 12 police departments and sheriff's offices nationwide.
"The Attorney General's Distinguished Service in Community Policing recognizes state, local, tribal, and territorial police officers, deputies, and troopers for outstanding efforts in innovative community policing strategies, criminal investigations, and field operations that have proven effective in enforcing our laws," said Garland's letter [read aloud by Ellis] accompanying the award. "Through this award, we seek to highlight the importance of community policing and the vital public service that our nation's law enforcement personnel provide."
Merriman's award was in the category of field operations.
A portion of Merriman's award citation reads: "Her ability to recognize the individual's state of mind – and her realization that drawing her weapon would escalate the situation – prevented a tragic outcome and saved at least one life that day."
Richland County Sheriff Leon Lott agrees.
"Sarah used the training she had and was able to deescalate a very dangerous situation that night," Lott said. "To say we're proud of her is, well, beyond words. Sarah has proven herself to be a very important part of the Richland County Sheriff's Department. She represents not only the Sheriff's Department but all of law enforcement across the nation. Unfortunately, there are those in this country who want to write the narrative that those who wear this uniform are looking for an opportunity to take someone's life. Sarah demonstrated the opposite of that."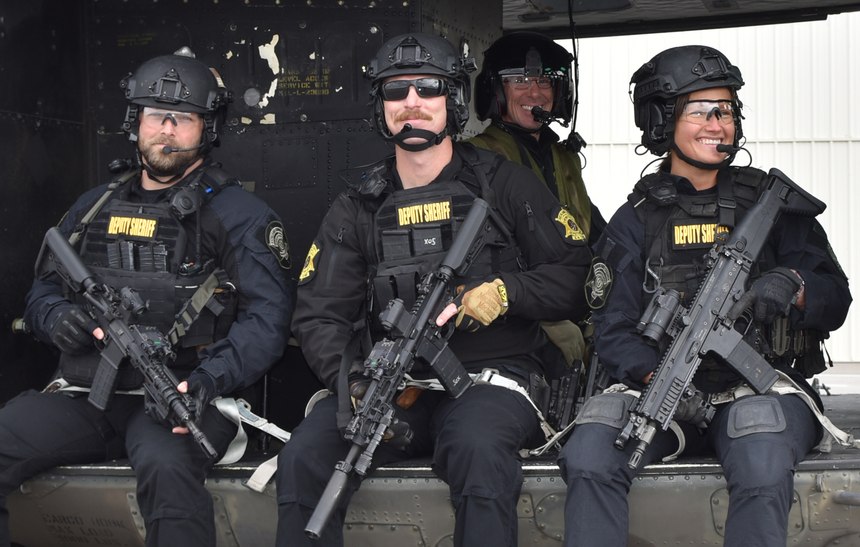 Merriman, who was then a patrol deputy with RCSD's Region Six, is today a K-9 handler and a member of RCSD's elite Special Response (tactical) Team.
The Justice Department awards program for law enforcement distinguished service marked its fifth year in 2022. The award presentations are normally held at the Robert F. Kennedy Justice Department Building in Washington, D.C., but were instead moved to the respective state district offices due to COVID protocols.