How do you save a hero's place?
The Honor Chair project preserves the memory of fallen cops, firefighters
---
Many law enforcement agencies struggle with finding the best way to remember a fallen officer. There might be a framed photo hanging in a hallway, or a plaque with the officer's name and dates of service on a wall. How do you properly save a hero's place?
Saving a Hero's Place (SHP) is both the name of a non-profit organization and its purpose. SHP builds and delivers "Honor Chairs," each a unique design to remember fallen officers. The chairs are then delivered in person to the law enforcement agency where the officer worked.
The chairs are a simple design, straight-backed, and often with a velvet rope running between the armrests above the seat. No two are exactly alike.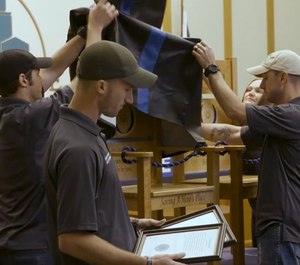 The chairs bear the name of the officer, usually a replica of the agency's badge or shoulder patch, and sometimes include a bible verse or a quote exemplary of the officer and his or her career. SHP also honors fallen firefighters with Honor Chairs. Over 100 chairs have been produced and personally delivered to the heroes' agencies.
SHP and its mission are the subjects of a documentary film by Patrick Shaver. Patrick is the filmmaker who produced "Dinkheller," the story of a Georgia deputy sheriff who was killed in the line of duty in 1998, and "Officer Involved," a documentary that explores the aftermath of a shooting through the officers themselves.
Patrick's film, "Honor Chair," tells the story of SHP, how the chairs are made, and follows the principals of SHP on a cross-country trip as they deliver chairs to their new homes.
Patrick's film allowed me to get acquainted with the SHP folks on a level that would be bettered only by meeting them in person. They are not slick corporate types. Their typical attire is jeans, t-shirts and baseball caps. These are people who care about cops, each other and the Honor Chair project. They push themselves to make the delivery trips as inexpensive as possible and entertain each other on the road with songs and jokes.
"The work of Saving a Hero's Place teaches us that our fallen law enforcement officers are never forgotten," Shaver said. "Here, you have a group of friends who are otherwise strangers to the outside world and they are creating permanent memorials to forever hold the place of your loved one, in some cases, decades after the loss."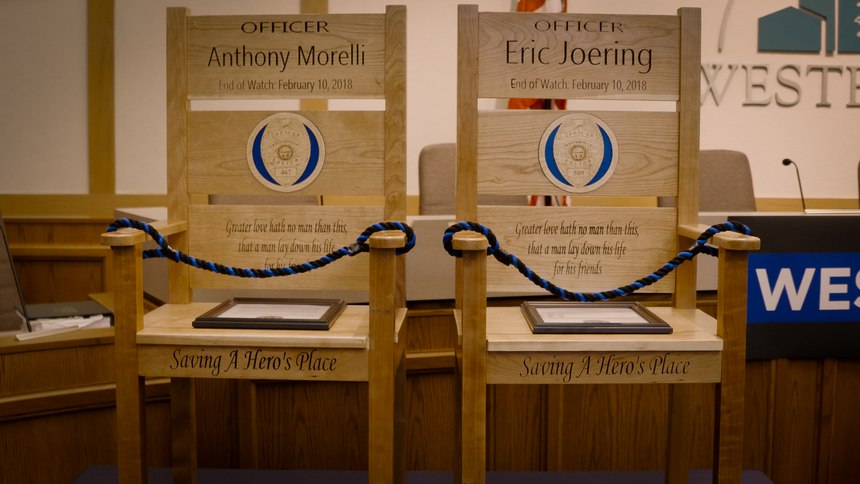 If SHP was a conventional business, it would be popular with cops for its support of law enforcement. But SHP is not a conventional business or even a conventional non-profit organization. You can't order an Honor Chair or take up a collection to buy one because they are not for sale. You also won't see one delivered by FedEx or UPS. When SHP gets word that a law enforcement agency or fire department would like to memorialize a fallen officer with a chair, they add it to the "To Do" list. At some subsequent date (I'm pretty sure they call ahead), they show up on the steps of your outfit with the completed chair draped in a "Thin Blue Line" protective cover. They place the chair, hang around a bit for photos and maybe a cup of coffee, and set off for home or the next agency that asked for a chair.
There is no mistaking the SHP crew on the road or when they arrive. They drive a Chevy Tahoe, pulling a small trailer. Both the Tahoe and the trailer are wrapped with distinctive graphics illustrating who they are and what they're about. The vehicle and trailer are attention-getters. Shaver's documentary film includes a segment where the SHP folks were on a delivery trip and were flagged down by a woman who asked if she could donate, right there at the side of the road. They accepted her money, thanked her for her generosity, and got back en route.
"When that citizen stopped us and donated $200 to Saving a Hero's Place at the side of the highway, that was such a powerful moment," Shaver recalled. "Not only did this woman want to contribute to their work, but she wasn't going to wait. She was a highlight of our week together."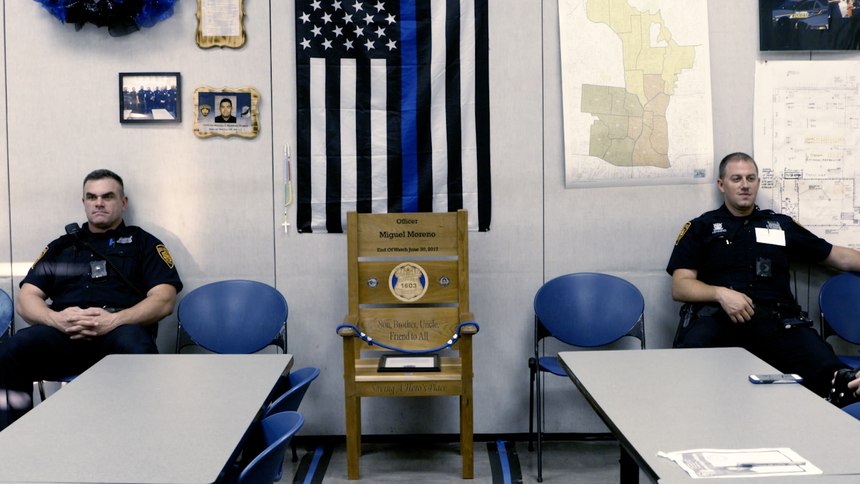 The making and delivery of the Honor Chairs are a labor of love. SHP does not charge for the chairs, or for delivering them. The principals of the organization are all full-time police officers for whom SHP is a non-paying side gig. The chairs and the cost of delivering them are funded through donations, the sale of logo merchandise and an annual banquet.
"These people are as selfless as any I have ever met," Shaver said. "They do this purely out of respect and love for the profession of law enforcement.
Each agency decides where the honor chair will be displayed. Some agencies place them in the lobby or other public areas. Others have them in the roll call room, where the memory of each fallen officer attends each briefing as officers prepare for another shift. The exhibit isn't morbid. It is simply a reminder that a fallen colleague is still with them in spirit, and will not be forgotten.