Mass. cop, who is also a nurse, helps deliver healthy baby girl
"We are fortunate to have people like Officer Baldwin in our ranks," said Chief Michael Lyle
---
By Suzie Ziegler 
MELROSE, Mass. — On Tuesday, a Massachusetts officer was reunited with the baby she helped deliver last week. 
Officer Ashley Baldwin, who is also a registered nurse, put her medical skills to good use when she was called to an expecting mother's home early Thursday, according to Melrose Police. When she got there, Baldwin found the mother in advanced stages of labor. Baldwin used her nurse training to determine there was no time to waste – the baby was coming now.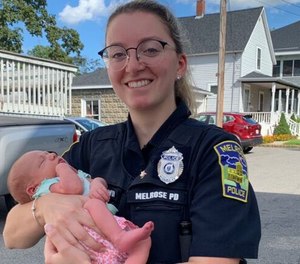 Baldwin helped with the delivery and cared for the new mom before telling the fire department it was time to take them to the hospital. The mother and baby were released from the hospital over the weekend, according to The Patch. 
Police shared photos of the sweet reunion, which show Baldwin holding baby Avery. 
"Officer Baldwin represents an evolving brand of police officer. She is highly-educated, with a focus on health and wellness as well as safety and law enforcement," said Chief Michael Lyle in a statement. "I am very pleased with her work, delivering professional services and care to the citizens of Melrose. We are fortunate to have people like Officer Baldwin in our ranks." 
Baldwin is a first-year police officer, according to Melrose PD. She also currently works as a nurse in the emergency department at Massachusetts General Hospital.