This school resource officer and Olympic athlete has her sights on Tokyo
It's not easy balancing Olympic dreams with being a cop, but Officer Jean says it's all about a strong mindset
---
By Suzie Ziegler
"Every day I hear, 'I can't wait until you get in a foot pursuit!' But it hasn't happened yet!"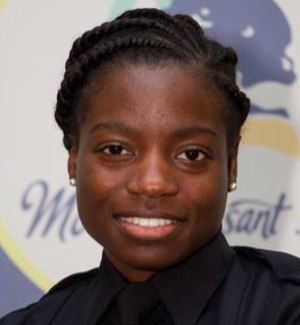 Officer Mulern (MER-leen) Jean is an Olympic hurdler. It's easy to imagine she might put her athletic talent to good use on patrol: sprinting after bad guys, leaping over picket fences.
Jean knew she wanted to be a cop, majoring in criminology at Charleston Southern University. But she didn't go straight to the blue uniform. Instead, she kept getting better at track.
"In college, at first, I was just mediocre. But then I became the best at my school and then the best in the conference. I just went with it."
Jean qualified for the 2016 Rio Olympics and competed for Haiti, her birthplace. After being disqualified in the first round, Jean returned home to the States to begin her policing career.
"I just knew I wanted to be in law enforcement," said Jean, 28. "I don't have anyone in my family in law enforcement. I wanted to be the first."
Police work: Not without its hurdles
In 2017, Jean graduated from the police academy and became an officer in Mount Pleasant, South Carolina. But she was still thinking about the upcoming Tokyo Olympics. And that meant she couldn't take a break from track – not even at the academy.
"I had collapsible hurdles with me at the academy," she laughs. "I would set them up and I would train when I had time, after my studies."
Balancing her police career with her Olympic goals became an ongoing effort – especially during her first year on patrol. As any patrol officer knows, staying fit is harder when you're working odd hours.
"I would have to train around those hours, and it was difficult for my body to keep up," Jean said. "I made it work, but it was hard."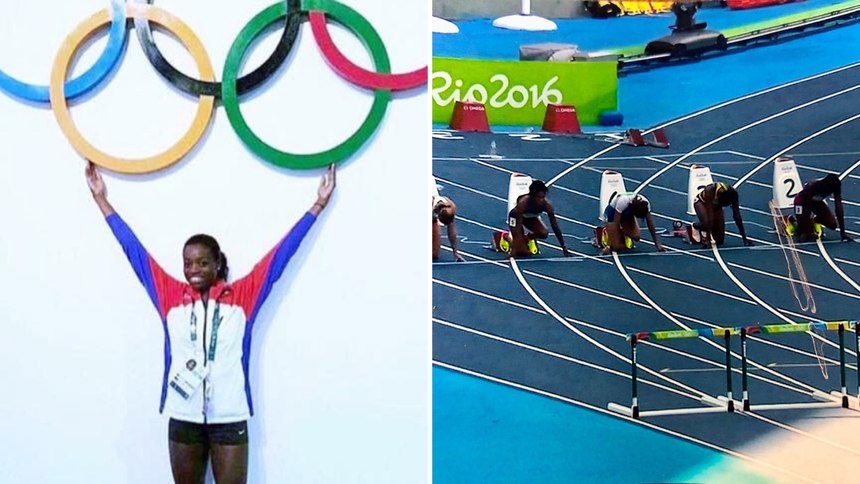 Sights set on Tokyo
When an SRO position opened up in 2019, Jean jumped at the chance.
"I love kids and since I was still thinking about training, the hours worked best," she explained.
For the next year, Jean worked at Laurel Hill Elementary while keeping up with training. When the Tokyo Olympics were postponed due to the COVID-19 pandemic, Jean continued to train, hoping for the best. It seems the world was on her side. In March, Japanese organizers announced their intention to go ahead with the Games – albeit without international spectators.
"Hearing that was like a sigh of relief," Jean said. "After being postponed, this only motivates me to push harder and harder."
These days, Jean is in Florida training full time to qualify for the Olympics. But Laurel Hill Elementary didn't let her go quietly. On the day she was meant to leave, Jean was called in for what she thought was a meeting. Instead, the entire school turned out to wish her good luck.
"I was so surprised," she said. "Seeing every single student and staff with the Haitian flag – that made me cry."
Jean was given her own Olympic torch (made from tissue paper) and bestowed with a homemade gold medal. Students and faculty cheered as she took a lap around the parking lot.
"I was just so speechless. I didn't know what to do."
Officer Jean Farewell

This morning Officer Jean was surprised by the faculty and students of Laurel Hill Primary School. There are no adequate words to express how proud we are of Officer Jean!

Posted by Mount Pleasant Police Department on Thursday, October 15, 2020
It's moments like these that make Jean excited to continue a career in policing – after she wins Olympic gold, of course.
"I see myself going back to being a police officer, I miss my babies," Jean said. "Seeing the smiles on their faces every time I walk in the room, the impact I made – I saw that."
A strong mindset serves both athletes and cops
On the surface, it may seem like there isn't much that policing and hurdling have in common. But Jean says it's all about the grit – for police officers and athletes both.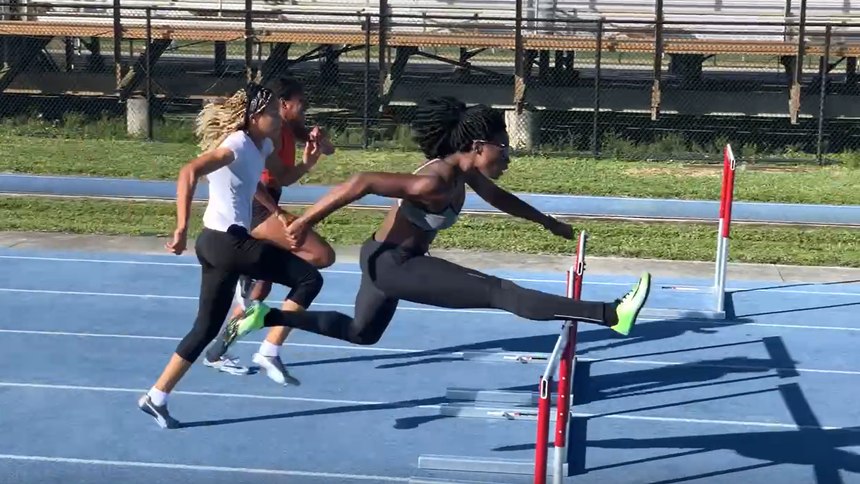 "You have to have a strong mindset. Track and field is very mental. You can lose a race if you don't believe in yourself," she says. "Being a police officer, if you don't have that strong mentality, if you're indecisive – you just have to have a strong mindset. I can't be timid or not have confidence in what I do, as a police officer or a professional athlete."
Right now, Jean is setting her focus on qualifying for Tokyo.
"I'm at the point where I'm not that old, I have another Olympics in me, but this is my all-out year," she says. "I want to break some records."