Wash. cop who kept pursuing 2 suspects after being shot will receive medal of honor
The officer who was shot in the leg and applied his own tourniquet while trying to pursue two fleeing suspects is being honored by the state
---
Tri-City Herald
PROSSER, Wash. — A Prosser police officer who was shot in the leg and applied his own tourniquet while trying to pursue two fleeing suspects is being honored by the state.
Officer Antonio Bustamante will receive the Law Enforcement Medal of Honor from the Washington State Attorney General's Office.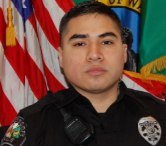 He was chosen for his actions during a shooting last August.
"Officer Bustamante's calm, professional demeanor and actions during the event, not only led to the area being safely secured, but also resulted in several individuals being identified as being involved," said a news release.
"Officer Bustamante is a valued member of our police force and demonstrates our core values in everything he does," said Prosser Mayor Randy Taylor.
Bustamante was hired as a reserve officer in 2016 and became a full-time officer in 2018, said Police Chief Dave Giles.
APARTMENT COMPLEX SHOOTING
Police were called to the Canyon Park Apartments about 1 a.m. on a Monday night last August when a 23-year-old woman reported two men knocking on her front door and jiggling the door handle.
Her boyfriend looked through the door's peep hole and recognized two teens who reportedly were planning to rob him, documents said.
Next door, a neighbor was injured by gunfire when he got up to see about the noise and was shot through a window.
Officer Bustamante said he was pulling into the complex when he saw someone running. He hopped out of his patrol car and ran after the suspect, who turned and shot at him about 10 to 20 rounds, documents said.
Law enforcement officers from throughout the Mid-Columbia were rushing to the complex as Bustamante told emergency dispatchers that he "took one round, I believe, to the right thigh," but was still able to walk.
Local, state and federal officers later would track down one suspect, Abdiel B. Vargas, 19, in Kennewick, and Isaiah M. Colley, also 19, in Centralia. Both remain in jail awaiting trials for robbery and assault.
The case is also still under investigation by an independent regional Special Investigations Unit.
©2020 Tri-City Herald (Kennewick, Wash.)
McClatchy-Tribune News Service