Book excerpt: From Sheepdog to the C-Suite
How to transition from a law enforcement career to the private sector
---
Preparing for the Transition While Still in Public Service
Now that you have decided to make the transition from the public sector to the private sector, I would like to detail our advice about how you should spend your time preparing for the transition so that you become a better applicant and prospective hire for the corporate world.
This chapter will discuss the following topics: Your reputation and your agency's reputation; whether you have a college degree; your social media activities; books that you should read; the importance of networking; groups you should join; certifications you could pursue; professional organization memberships; subject matter expertise; working knowledge; and health matters.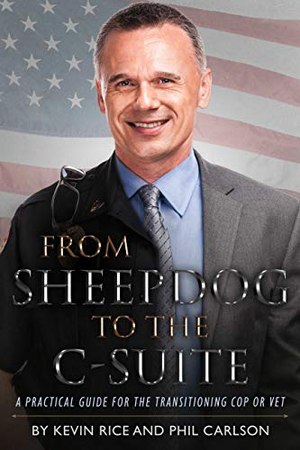 Let's address each one separately.
Your Reputation
Based on what I have seen in my three decades of public service and my ventures in the private sector, the MOST important determinant in whether you will be offered an impressive job in the private sector is your reputation.
Let that sink in for a minute. Your reputation.
Let me repeat myself. YOUR reputation.
Your reputation is the most important factor in getting hired in the private sector. Oftentimes, your reputation may be the sole factor determining whether you will get hired or not.
That means other factors, such as your education, your vocational training, your experience, your age, your resume, and a dozen other qualities that may make you the most perfect candidate will probably play no role in your hiring. You will need to enjoy a good reputation in order to get the job. Therefore, if you suffer from a poor reputation with the hiring officials, or if you have no reputation among the deciders, you will not advance. This is not necessarily fair, but unfortunately, this is how life works.
Ben Franklin once said, "It takes many good deeds to build a good reputation, and only one bad one to lose it."
Let me give you some examples of the importance of reputation from the lives of your authors.
My first experience with reputation as it relates to hiring came when I was a young Secret Service agent.
One day, my boss, the special agent in charge of the district, called me to his office and asked me about a local police detective who had applied with the Secret Service. Not wanting to sway or prejudice the applicant's chances, I told my boss that the applicant was very competent and would perform well in the job. My boss, wanting to know more about the applicant, continued to drill down to find out more about him.
With each question, I gave my boss platitudes and generalities. My boss then closed the door to his office and told me that he could tell I was withholding information about the applicant. He then played on my patriotism and said that this applicant would one day be responsible for the life of the president of the United States.
My boss said I was honor-bound to provide any information that might assist in the hiring decision. I then discussed actions I personally saw the applicant undertake as a police officer when the applicant had been a bully, was demeaning to other officers and treated others poorly. At the end of my story, I witnessed my boss pick up his phone, call Secret Service headquarters, and advise them that the applicant did not meet the exacting standards of the Secret Service. It was at that point that I realized how instrumental an applicant's reputation can be.
Another example of the importance of reputation occurred as I was being interviewed for my current role in the private sector. I was selected as one of many applicants to be interviewed for my current position, I believe based on my resume and my breadth of experience. I don't know the identities of the other applicants who were also interviewed, but I am told that there were several other impressive candidates. I can't state this categorically, but I know for a fact that after my initial interview, I was given an opportunity to tour the East Coast facility that I would oversee. Unbeknown to me, while I toured the facility, the hiring manager called a mutual colleague from our days in federal law enforcement. The person who was called, who worked for another agency, spoke very highly of me and personally vouched for me. I believe that one phone call is the main reason why I was selected.
Someone the hiring manager knew and respected had vouched for me and my reputation. That is why I was hired. My reputation alone.
In your co-author's case, Phil's reputation as an honest broker and a high-quality law enforcement professional was well known by the C-suite members who hired him. In fact, because of Phil's reputation, no other candidates were recruited or interviewed for his security director position.
As a young federal agent, my first boss had a saying that I believe bears repeating here. It was about the importance of one's reputation in law enforcement. He used to say, "If you get a reputation for being an early riser, you can come to work at noon and everyone will assume that you have been working since dawn. However, if you have a reputation of being a slug, you can start work at sunrise and everyone will assume you have been goofing off."
As you go about your days in law enforcement or in the military, make sure that you care for that reputation. When people talk about you and your reputation, you should be known as:
A team player
Trustworthy
Eager
Nonjudgmental
Professional
Smart
Ethical
A mentor
Caring
Conscientious
Treat others well, not only because it is the right thing to do, but because the person you treat with respect or go the extra mile for today may someday be in a position to vouch for you or recommend you to a hiring manager.
I leave you to ponder these two quotes:
Remember that your reputation is everything. You build your personal brand through everything you do, whether big actions or small decisions, and that brand will stay with you throughout your career. — Jan Fields
It is a sign that your reputation is small and sinking if your own tongue must praise you. — Matthew Hale