Dorner's rant puts focus on evolving LAPD legacy
The LAPD was once synonymous with violent and bigoted officers
---
Associated Press
LOS ANGELES — A fugitive ex-police officer's claim in an online "manifesto" that his career was undone by racist colleagues conspiring against him comes at a time when it's widely held that the Los Angeles Police Department has evolved well beyond the troubled racial legacy of the police beating of black man Rodney King and the O.J. Simpson trial.
Christopher Dorner, who is suspected in a string of vengeance killings over the past week, has depicted himself as a black man wronged, whose badge was unjustly taken in 2008 after he lodged a complaint against a white female supervisor.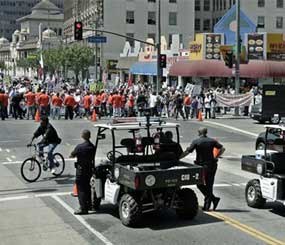 "It is clear as day that the department retaliated toward me," Dorner said in online writings authorities have attributed to him. Racism and officer abuses, he argued, have "gotten worse."
The LAPD was once synonymous with violent and bigoted officers, whose culture and brand of street justice was depicted by Hollywood in films like "L.A. Confidential" and "Training Day."
But Dorner's problems at the LAPD, which ended with his dismissal in 2008, played out as the officer ranks were growing more diverse and then-Chief William Bratton was working hard to mend relations with long-skeptical minorities.
"This is no longer your father's LAPD," Mayor Antonio Villaraigosa declared in 2009.
Civil rights attorney Connie Rice said the department should review the Dorner case and his claims, while stressing that she is not defending the suspect in any way and is shocked by the attacks.
"The open racism of the days before is gone," said Rice, who closely tracks racial issues inside the department. "The overall culture has improved enormously."
Police say Dorner shot and killed a couple in a parking garage last weekend, the beginning of a rampage he said was retribution for his mistreatment at LAPD. A massive search for him continued Saturday.
The woman who died was the daughter of a retired police captain who had represented Dorner in the disciplinary proceedings that led to his dismissal. Hours after authorities identified Dorner as a suspect in the double murder, police believe he shot and grazed an LAPD officer and later used a rifle to ambush two Riverside police officers, killing one and seriously wounding the other.
"This is a necessary evil that I do not enjoy but must partake and complete for substantial change to occur within the LAPD," Dorner wrote in a 14-page online manifesto.
On Friday, a community of online sympathizers formed, echoing complaints against police that linger in some communities. One Facebook page supporting Dorner, which had over 2,300 fans by Friday evening, said "this is not a page about supporting the killing of innocent people. It's supporting fighting back against corrupt cops and bringing to light what they do."
Dorner's case is complicated.
After the Naval reservist returned to LAPD after a deployment to the Middle East in 2007, a training officer became alarmed by his conduct, which included weeping in a police car and threatening to file a lawsuit against the department, records show.
Six days after being notified in August 2007 that he could be removed from the field, Dorner accused the training officer, Sgt. Teresa Evans, of kicking suspect Christopher Gettler, a schizophrenic with severe dementia, in the chest and left cheek while handcuffing him during an arrest.
Richard Gettler, the schizophrenic man's father, gave testimony that supported Dorner's claim. After his son was returned home on July 28, 2007, Richard Gettler asked "if he had been in a fight because his face was puffy" and his son responded that he was kicked twice in the chest by a police officer.
However, Dorner's report to internal affairs came two weeks after the arrest, police and court records allege. Civilian and police witnesses said they didn't see Evans kick the man, who had a scratch on his cheek consistent with his fall into a bush. A police review board ruled against Dorner, leading to his dismissal.
Online, Dorner tells a different story. He argues he was "terminated for doing the right thing."
Rice was quick to point out that while the LAPD culture has improved, there are still what she calls pockets of bad behavior.
That was echoed by Hector Villagra, executive director of the American Civil Liberties Union of Southern California.
"There has definitely been improvement from those dark days," Villagra said. "We are in a vastly different place, but there still are opportunities for improvement in this and any other police department."
Copyright 2012 Associated Press