Officials: Climb in Wash. trooper salaries reducing officer shortage
The patrol has a historically large class of 55 cadets in training to become troopers in April
---
By Walker Orenstein
The News Tribune
TACOMA, Wash. — The Washington State Patrol is not ready to call its shortage of troopers over.
But the patrol has a historically large class of 55 cadets in training to become troopers in April. And what once was a flood of troopers retiring or jumping ship to local police departments for higher salaries has shrunk as of late.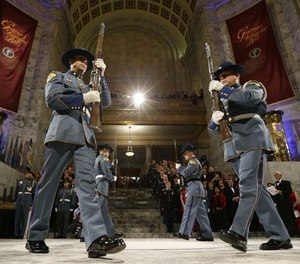 The patrol lost an average of nine troopers a month in 2015. Last year, it was just five per month. And from October through December last year, it was fewer than three a month.
In other words, things are looking up. The patrol credits, in part, pay increases approved by the Legislature.
"I think we're going in the right direction," said patrol spokesman Kyle Moore.
The significant improvements are, so far, a success story in the making for the patrol, which complained its issues mostly stemmed from pay that was drastically lower than at local police departments around the state. A report to the Legislature last year showed troopers bailing for other departments that paid thousands more a year.
The patrol's salaries were frozen during the Great Recession, said Patrol Chief John Batiste. After that, they never quite caught up with competitors, among them Seattle's and Tacoma's police departments.
"When you're getting offered $2,500 a month more by someone else to do the same job, it's kind of hard not to take that," Moore said.
Moore was exaggerating slightly. The report showed entry level pay for troopers -- after completing the academy training course -- to be the equivalent of $51,500 to $56,600 a year. The patrol offers salaries in the higher end of the range to troopers who work in counties with higher costs of living, like King and Pierce counties.
A comparable police officer would make $59,800 a year at the Pierce County Sheriff's Department, $69,200 at the Seattle Police Department and $71,800 at the Kennewick Police Department.
Most police departments, including the patrol, give a pay raise to officers after the first six months or so of work. The report's figures extrapolate an officer's monthly pay when the officer first enters the department over an entire year.
In response to the wage disparity, lawmakers last year moved to bump salaries 5.8 percent on top of some small raises that had been previously negotiated. They also agreed to make the patrol salaries competitive with the top six highest-paid local police departments around the state in 2017 -- a much larger lift.
That payoff likely will be set in motion during the current legislative session. Democratic Gov. Jay Inslee negotiated with the patrol to hike pay by 19-23 percent by July 2018 as part of the state's collective bargaining agreements with Washington employees. The raises vary by rank and job within the department.
"There's great anticipation from the contract that was agreed to," Batiste said. "That will help us immensely in terms of our ability to compete with peer agencies."
Lawmakers could vote down Inslee's negotiated raises. And some Republicans in the GOP-controlled Senate have criticized parts of Inslee's deals for state workers as too expensive.
Senate Majority Leader Mark Schoesler didn't take a stance on negotiated patrol pay raises last week at a news availability with the GOP leadership.
But Schoesler, a Republican from Ritzville, did point out trooper salaries are a small portion of the overall state employee pay budget, and are funded out of the Washington's transportation budget rather than the general fund, which pays for schools.
That's helpful in a year when lawmakers are trying to broker a deal to fix how the state pays for education as required by a state Supreme Court order. The price tag for meeting the education ruling, known as McCleary, could be in the billions.
The Senate Republican's leader on transportation, Sen. Curtis King, voiced support for meeting the Legislature's promise to make trooper salaries competitive with local police departments.
Though he said they're still reviewing Inslee's plan, significant raises are "pertinent to the success of the State Patrol."
State Rep. Jake Fey, a Democrat from Tacoma, said he was "cautiously optimistic" about the patrol's improving situation, but said he hopes the Senate doesn't "second guess" the governor on salary increases.
Fey sponsored the legislation that gave the patrol this year's pay raises and committed the Legislature to future ones.
Moore said other departmental changes are making a difference, too. Upgrades to the patrol's uniforms and aggressive recruitment of new cadets has yielded a boost, he said. The patrol has been placing online ads on the music streaming website Pandora, for example.
Batiste also made changes to how leadership approaches management, he said. The report given to the Legislature said many troopers didn't feel valued or have enough say in how they do their jobs.
Now, instead of " 'do as I say,' it's more 'let's talk about this,' " Moore said.
Fey said those efforts should continue. He still wants to track changes at the patrol "in terms of things that are going to make it a more satisfactory workplace for troopers."
Fey said the salaries of officers at local police departments need to be monitored to make sure the same problem doesn't creep in again. Moore said the patrol still has many officers eligible to retire soon, although higher salaries have kept some from retiring early.
But he said the patrol is in better shape than before in its quest to fill remaining vacancies. More than 100 positions are still open for troopers who serve in the field.
"We're hoping to fill the void within the next couple of years," Moore said.
Walker Orenstein: 360-786-1826, @walkerorenstein
___
(c)2017 The News Tribune (Tacoma, Wash.)
McClatchy-Tribune News Service