PRESS RELEASE
LTI-IACP-Co-Host-Another-National-Law-Enforcement-Challenge-Webcast
---
Laser Technology, Inc. (LTI) and IACP's National Law Enforcement Challenge (NLEC) organization are co-hosting another webcast about the value of participating in the Challenge and helpful tips on preparing the online application. Hear from the Chair and other members of the NLEC subcommittee who will speak about frequently asked questions, newer guidelines and other useful advice that will make all the difference when applying for the Challenge. 

Register here

Wednesday, February 26, 2014 10:00 am
Mountain Standard Time (Denver, GMT-07:00)

In conjunction with submitting your application online by May 1, 2014, all attendees on this webcast will have a chance to win an LTI 20/20 TruCAM® video laser or a LTI 20/20 TruSpeed® Sx laser with Bluetooth and smartphone brackets, to run LTI's new SpeedCapture app!

For those who attended the first LTI/NLEC webcast, you can triple your chances to win LTI equipment by attending this upcoming webcast.

If you missed LTI's first NLEC webcast on November 19, 2013 you can watch a recording by visiting Webinar: National Law Enforcement Challenge 2013.
About Laser Technology, Inc. (LTI) 
LTI has been offering a complete accident reconstruction solution for over 15 years.  QuickMap® 3D software was designed specifically for AI professionals with the intent to quickly be able to measure and store data points electronically and easily transfer that data to recreate the scene at the office. For more information visitwww.lasertech.com.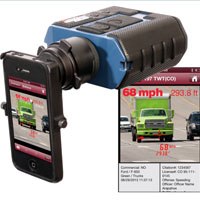 Request more info from Laser Technology
Thank You!