Spotlight: Dragon Skin gives you the world's most comfortable duty belt
For 17 years, Dragon Skin has made high quality technical gear and accessories for emergency units
---
Company name: Dragon Skin
Headquarters: Saint-Nicolas (Lévis), QC, Canada
Signature Product: DRAGON SKIN Duty Belt
Website: https://www.hi-tec.qc.ca/index.php
Email address: service@hi-tec.qc.ca
1. What was the inspiration behind starting your company?
The company was started out of a customer's need – we had a customer who wanted a particular product and we went forward to create that product. Over the last 20 years, we have never been short of customers who have sought us out for products they can't find on the market. Our company, along with our mother company, now offer about 1,800 products.
2. What is your signature product and how does it work?
Our current signature product is the Dragon Skin duty belt that is 100 percent ergonomic and about as hot as a product can get in an industry. We have been told by some big buyers that this is the most innovative product they have seen in the last 20 years. A number of larger companies have tried to offer a similar product without the same success that we have had. We now hold the trademark in some 45-plus countries, as well as some patents pending in those same countries.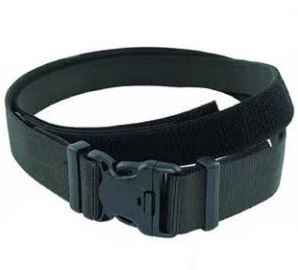 3. Why do you believe your products are essential to the police community?
This product is extremely essential for anyone who wears a double duty belt in the workplace, like first responders and public security. This is the solution to workdays lost and repeated visits to the chiropractor. Most agencies do not want to share the fact that 35 to 40 percent of their members have waist and lower back issues. If you ask any sergeant, they'll tell you that everyone in their agency has had a waist or lower back problem at some point in their career. We have the very first and only 100 percent ergonomic duty belt in the world, with a great track record and thousands sold. Our belts can make your working hours much more comfortable.
4. What has been the biggest challenge your company has faced?
The raw materials for our Dragon Skin duty belt did not exist when we started in 2012, and as a result we worked very hard for three years to create a raw material that would perform at the level we knew was needed in these work environments.
The hurdle we're currently facing is trying to tell everyone that the product exists, and that it really does work. This waist and back problem is huge and in some cases it may determine if you can retire or you have to stop working prior to retirement.
5. What makes your company unique?
We have created the right product for the customer. Our Dragon Skin customers tell us that they will not wear anything else.
6. What do your customers like best about you and your products?
That the products work, we deliver, and that the price is very reasonable.
7. What is the most rewarding part of serving the first responder/local government community?
We like that we're able to offer a product that the big companies do not offer.  
8. What's next for your company? Any upcoming new projects or initiatives?
Right now we are focusing on Dragon Skin, but when a customer is in need of a new product, we will always be there.