PRESS RELEASE
HAIX North America introduces new boot, Black Eagle Tactical 2.0 FL
---
Lexington, Kentucky- HAIX is pleased to announce that the company has introduced a new boot to our popular Black Eagle® line. We are excited to introduce the Black Eagle® Tactical 2.0 FL!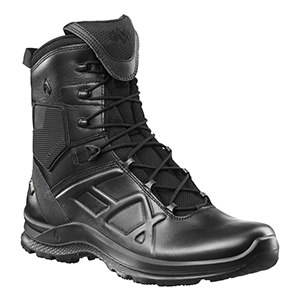 This all leather 8" boot features the highest quality, water resistant, European bull hide leather for added durability and is polishable throughout, including the tongue. The HAIX® leather is smooth along each side for a more formal look with uniforms. This boot offers an extremely lightweight, athletic feel that will also satisfy the toughest uniform requirements. The Black Eagle® Tactical 2.0 FL offers all-day comfort; even after long hours on your feet.
As an added benefit, the boot features a CROSSTECH inner liner that is both waterproof and breathable, to keep your feet protected from the elements, while also offering an added layer of protection against bloodborne pathogens, body fluids, and chemicals. In these challenging times, they help keep you protected from anything you may experience out in the field.
As an indication of HAIX's confidence in the quality of these boots, the Black Eagle Tactical 2.0 FL, comes with a one-year manufacturer's warranty with the option to add an additional year just by signing up online.
The Black Eagle Tactical 2.0 GTX FL is available in sizes 4-13, whole and half and 14-16 whole sizes in medium and wide.
For more information about the company and its products, visit www.haixusa.com or call 1-866-344-4249.
About HAIX Group: HAIX Group is a global footwear maker for professionals involved in firefighting, safety, police activity, EMS, task forces and more to provide them with the best possible shoes to assist them safely and comfortably in a variety of situations. Utilizing German engineering and extensive experience, the company sets out to offer improved functionality and state-of-the-art innovation for the best shoes on the market. HAIX consistently works to improve its products to the satisfaction of its customers.

Request more info from HAIX North America, Inc.
Thank You!