Eye protection for police officers
Protecting your eyes doesn't have to be expensive or cumbersome
---
Having worn glasses since I was four years old, I didn't experience the dread revelation of mortality that my fellow cops had when they entered their forties and found their near vision going to hell. Those who sought refuge in the arms of LASIK found no solace. The inability to focus at close distances as one ages isn't caused by corneal defects that LASIK can correct. It comes when the lens, a clear structure between the cornea and retina, hardens and won't accommodate a sharp image up close. The only remedy is corrective lenses, which some people associate with weakness.
Get over it. You can wear contact lenses, of course. Been there, done that. They're considerably more expensive than glasses, you have to mess with cleaning and wetting solutions, and an environment with any combination of dust, wind, dryness or chemical vapor (pepper spray is big fun) can render you blind. I'll stick with my cheaters, thank you very much.
There are some benefits to wearing glasses, especially if you opt for protective, wrap-around models. The effects of wind, dust and things people may throw in your face are minimized. This is no small advantage. Consider how task-focused you were the last time you got something in your eye. Most people value their eyesight over any of the five senses. Isn't it worth protecting?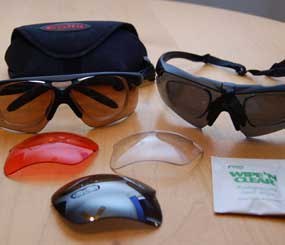 Up until relatively recently, corrective lens wearers didn't have access to most of the wrap-around glasses on the market without resorting to contact lenses. Opticians couldn't grind the prescription into the oversize protective lenses with their big contours. This situation has improved with the advent of prescription inserts that mount behind the protective lenses.
You can order some wrap-around designer glasses with the prescription ground in, but this may not be the best option for protective glasses you wear at work. Work glasses get beat up a lot. Polycarbonate lenses offer the best protection, and while polycarbonate is nearly shatterproof, it scratches easily. Scratch a prescription-ground lens, and you either live with the scratch in your field of vision or write another large check.
Bollé's Vigilante glasses come with four interchangeable lens colors: clear, smoke, vermilion (reddish) and brown. The prescription inserts are ground by one of their licensed opticians and shipped separately. You'll need a current (less than two years old) prescription from an optometrist or ophthalmologist that includes interpupillary distance (the distance between your pupils when looking straight ahead) and segment height, if your prescription includes bifocals.
Another choice, one made especially for the military and law enforcement, is the ICE series eyeshields from ESS. These don't ship with interchangeable lenses in the standard package, but there are different lens tints available and the lenses swap out easily and quickly. I prefer these over the Bollé Vigilantes, as the prescription insert covers more of my field of view. The ESS glasses also wrap around more completely and come with an elastic band retainer that snaps into the temples.
Prescription specifications are the same as for the Bollés. Expect to pay around $200 for the inserts for either one, plus the cost of the glasses themselves. This may seem steep, but remember that you can transfer the prescription inserts to a new pair of glasses if the originals get messed up.
Quality is critical with eyewear, and you know you're going to get quality when you buy a well-known name brand. Sometimes, though, price is a bigger concern. I've purchased my last four pairs of prescription glasses (the ones I wear every day, not the prescription inserts for the protective glasses described above) from Zenni Optical. Zenni operates from San Rafael, CA, but their glasses are produced in Hong Kong. You shop online, choose the frames and lenses from the 3000+ models they have to choose from, and enter your prescription information. Two to three weeks later, you get a package from San Rafael in the mail.
The glasses I normally wear cost me between $300-$475 if I get them from the optical shops at a big box store. A nearly identical pair from Zenni cost a little over $100, and they have performed as well as the ones produced locally. Go ahead and throw stones at me for not buying American, but a buck's a buck. Zenni offers some wrap-around models similar to the brands discussed above (on their site, look under "Goggles") but note that the inserts cannot be ground for bifocals or progressive lenses.
If you're new to wearing glasses, try to resist the urge to wipe them clean with your shirttail or a tissue. Dust and dirt will scratch the lenses. When you wash your hands, lightly rub the lenses with your soapy fingers, rinse under cool water, then blot them dry. For other times, I buy a box of foil-wrapped lens wipes from Walmart or Costco for around $10 for 200 packs, and carry a few in my car and jacket.