SHOT Show 2010: Wiley X unveils Black Ops line
New series of tactical eyewear debuts at SHOT that uses lessons learned in the sandbox
---
Steve Gerlovich says the "prebook" for the new Black Ops line of eyewear from Wiley X is "the largest we've ever had in all the years we've been around."
One look at the product and the reason for so many orders from the company's universe of distributors becomes clear. With special operators returning from Afghanistan, Iraq, wherever else the war on terror has taken them, there's an emerging market for eyewear that reflects that aesthetic.
"Glossy plastic rims and ear paddles, or highly reflective and colorful wrap around lenses," Gerlovich, says, "is not the look that resonates with young officers today."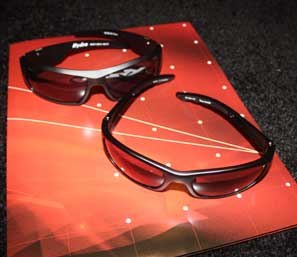 But there's more to this new line than matte finish and blacked out logos. The Selenite polycarbonate lenses are ANSI Z87.1-2003 certified, resisting a .25 inch diameter steel ball fired at a speed of 150 feet per second. The ear paddles are constructed of a "sticky" type of rubber that really hugs the ears without irritating your temples. The frames themselves are incredibly light and feature soft rubber nose pads are practically unnoticed as you wear them.
Wiley X is a family- and U.S. Veteran-owned company which has been serving military and police for two decades. Many elite SWAT units are already wearing Wiley X and that number is sure to grow with the introduction of this new line, which was unveiled on the opening day at SHOT 2010.
In related news, Wiley X has teamed up with 5.11 Tactical to create a new line of high-performance eyewear. In a company press release we obtained from the folks at 5.11, CEO Dan Costa says, "We entered into a partnership with Wiley X to offer our customers a wider selection of styles that meet or exceed our customers' needs as well as all of the industry standards. Not only does Wiley X share our commitment to excellence, there's probably no other brand out there that has protected more eyes than Wiley X."
Look for more on the strategic partnerships forged by 5.11 in an upcoming Police1 feature article. 
Visit Wiley X online for more information