Ringers Gloves: Taking Care of Tactical
---
Moorpark, Calif. – Ringers Gloves Law Enforcement Line covers a wide spectrum of gloves, ranging from the everyday duty glove to tactical gloves for those in special operations and SWAT.
           
The nice thing about the Ringers' Duty, Duty Plus and Leather Duty gloves is their versatility; they could be used in tactical conditions, but if you're looking for a glove that is a little more rugged and fierce, the Ringers' Carbon Tactical and Tactical HD gloves are your best bet.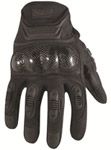 Both gloves feature Ringers' patented SuperCuff™ wrist technology featuring a Velcro closure and non-binding, non-restrictive cuff.  The Carbon Tactical glove boasts a lightweight carbon fiber knuckle protector along with thermal plastic rubber (TPR) knuckle protection bumpers over each finger.  A world-class Pittards® leather base is featured on the palm and fingers of the glove for superior strength and tactile feel, while palm panels with anatomic cutouts create maximum resistance.
           
Like the Carbon Tactical glove, the Tactical HD glove features direct-injected TPR finger panels for extreme hand protection.  Six millimeters of segmented padding forms over the knuckles on the back of the hand to create a padded protection that moves with your hand, while reinforced stitching, hidden seams and a dual-layer fingertip design provides extra durability and maximum wear.
           
Applications for both of these gloves include special ops, SWAT and motorcycle officers.  Both gloves are available in black in sizes X-Small through XX-Large, with the Carbon Tactical retailing for $59.99 and the Tactical HD for $44.99.
           
Swing by your favorite uniform store today or to locate a dealer or distributor near you, call 1.800.421.8454.  You can always shop online at 24/7 at www.ringersgloves.com.

About Ringers Gloves
Ringers Gloves, an ISO 9001:2000 certified company, is a full-line manufacturer of high-end, task specific gloves in areas such as automotive/motorsports, fire/rescue, military/law enforcement and industrial safety; as well as a full line of accessories, including UnderX fire-resistant undergarments and performance gear, for every need. Isn't it time you bring in the Ringers?  Check us out at www.ringersgloves.com.