PRESS RELEASE
NAUMD names Smith & Warren 2020 Innovation Award Winner
---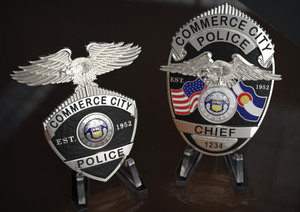 OMAHA, Neb., – The North American Association of Uniform Manufacturers & Distributors (NAUMD) today announced the winners of its 2020 Innovation Awards, a program that recognizes unique design, advanced technology and excellence within the public safety uniform and apparel industry. Topping the list was Smith & Warren, who received the Best Badge or Emblem Design for its work with the Commerce City Police Department.
The Commerce City breast and shirt badges were designed using the BadgeStudio process by Smith & Warren. BadgeStudio combines traditional concept design through sketching with digital 3D design and laser die-cutting technologies. Both badges in the program feature a black background along with uniquely integrated symbols representing the country, state, and municipality served by the department. Smith & Warren and Commerce City Police Department worked very closely together over several months to develop the concept and bring it to reality. While Smith & Warren provided the creative and technical services, it was really a collaborative effort between two organizations who were passionate about the project.
3D digital rendering and laser die cutting are innovative technologies exclusive to Smith & Warren in the badge business. The 3D rendering allows customers to see exactly how the badge will look before the die is cut. Laser die cutting provides a level of detail far superior to traditional machining methods.
"We're excited to shine a spotlight on the uniform suppliers who went above and beyond to create more stylish, efficient and comfortable apparel," said Steve Zalkin, president, NAUMD. "Our Innovation Awards represent the unique ways shoes, textiles, badges and more transform the overall function of a uniform. This year's winners used cutting-edge technology and creativity to design inspiring product."

The remaining winners of the 2020 Innovation Awards are:Aramark Uniform Services, Best Fabric Innovation, WearGuard® Eco Collection made with ReTerra™ & OstraTec™; Bulwark Protective Apparel/VF Workwear, Best Garment Innovation – Comfort, Nomex®; and Design Collective by Cintas, Best Garment Innovation – Function, Tech Pant.
The 2020 Innovation Award winners were determined by a panel of independent judges. The panel reviewed each submission and judged the innovations based on the benefit to the wearer, application of new technology, overall creativity and the quality of the research process that produced the innovation. The competition is open to all companies in the image apparel and uniform industry. Participants must submit a completed entry form, as well as photographs or drawings depicting the innovation. All winners receive award trophies.

About North American Association of Uniform Manufacturers and Distributors

The NAUMD was founded in 1932. This association is a community for the uniform and image apparel industry. It is composed of manufacturers, distributors, and associated companies that have a common bond in the future of our industry.
We exist to enable our members to create opportunities for a better future. We do this by connecting ideas and people in ways that provoke conversations and inspire innovation. The NAUMD is about building a community where strategic relationships are formed; problems are solved and meaningful information empowers a betterfuture. www.naumd.com
 

Request more info from North-American Association of Uniform Manufacturers & Distributors (NAUMD)
Thank You!